Racist Inmate Makes It His 'Mission' To Kill O.J. Simpson Following Jailhouse Brawl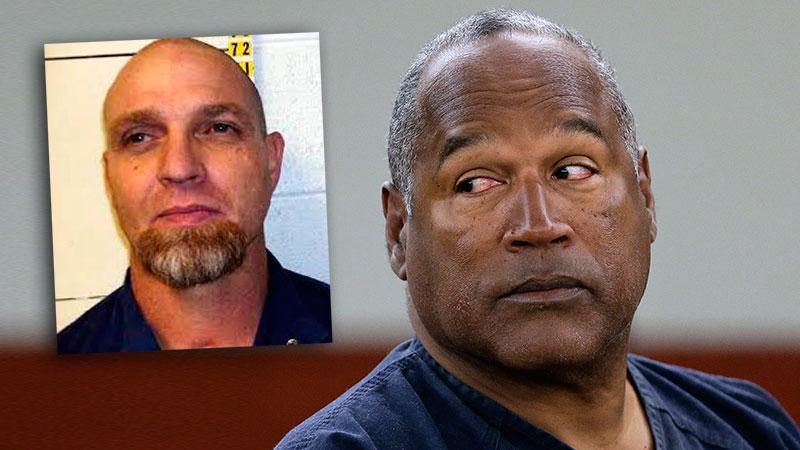 Travis Waugh, a racist convict at Lovelock Correctional Center in Nevada, has claimed his life's "mission" is to murder fellow inmate O.J. Simpson.
The chilling vow came from the member of the white supremacy group, the Aryan Nation, after a run-in with the former football star in the institution last week, the Daily Mail reported.
On March 3, when Simpson cut a prison line for medication, Waugh, 51, told him "to take his ugly black a** to back of the line and wait like everybody else," a source told the outlet.
Article continues below advertisement
The 67-year-old Simpson told Waugh, behind bars for an attempted sexual assault conviction, "I'm gonna stay right here and your a** ain't gonna do nothing about it."
Waugh then shoved him into a wall and vowed to him, "I am going to make it my mission the kill your N-word a** -- you will not leave here alive," a source told the outlet.
A source said that Simpson then "fell against the wall and was able to catch himself before he fell to the floor, but he was in a lot of pain because of his bad knee."
The former Buffalo Bill then spit on the bigoted convict, and at that point, sources said that all hell broke loose, as "everybody was yelling and pushing, and then the guards -- the sharp shooters -- cocked their rifles.
"The guards were pointing their rifles at O.J. and the other guy and they froze where they were."
Simpson was alarmed when other inmates confirmed to him that Waugh is "a very brutal, violent guy, who has a lot of connections inside and outside of the prison.
"They told him, 'Yeah, he's the real deal,' and if they were him they would be very afraid ... they told OJ he should watch his back."
The prison insider added that Simpson's arrogant, bullying demeanor has made him few friends in the Nevada prison.
"O.J. is still the same guy he was when he came here -- he feels like the world owes him something -- and they are tired of it," the insider said.
Simpson remains in custody on a 9-to-33-year sentence in connection with his 2008 conviction on robbery and kidnapping charges after a 2007 incident in Las Vegas.