Exclusive
It's 'Mob Wives' War! Natalie Guercio Claims 'Low-Life' Karen Gravano & 'Walking Hypocrite' Natalie DiDonato 'Condone Domestic Violence'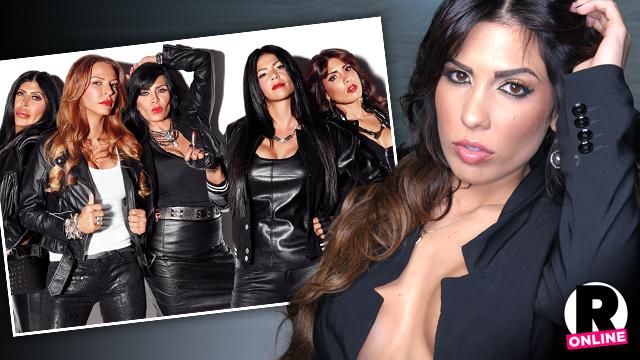 "I'm used to already being attacked on this show," Natalie Guercio tells RadarOnline.com of warring with her fellow Mob Wives cast members, including over the two-part reunion special. "This has been going on since the first season I've been on."
But Season 5 saw a huge escalation in the show's bitter ongoing battles.
"It's just a lot worse this season because they are getting everyone to gang up on me," Guercio explains. "I don't think it's fair for me to get ganged up on when all I'm doing is my job, filming a show, and just talking about how I feel."
Article continues below advertisement
The drama heated up with the return of Karen Gravano, who already seemed to have an axe to grind with Guercio.
"Karen attacked me from day one," Guercio insists to Radar. "Even when she was off the show, she was attacking me."
The situation got especially tense during the reunion when Gravano claimed Guercio was a racist. But, according to Guercio, there wasn't any specific reason for Gravano to throw out the nasty allegation.
"That's Karen's go-to card," she snipes. "It's not right, and it's ignorance. My son is mixed. My boyfriend is mixed."
Now, Guercio and Gravano will remain sworn enemies for life.
"There is never going to be a relationship with Karen, especially with someone who can laugh about a situation: my boyfriend being a victim of a horrific crime," Guercio says. "He was brutally attacked and almost died and Karen and her boyfriend are sitting on stage laughing."
Article continues below advertisement
"To me, I don't like that," she continues. "I don't like how she condones violence, how she condones calling the cops is not right when people are in need of their help. It's disgusting! It's low-life trash and I don't appreciate that."
However, the drama didn't end with Gravano. Natalie DiDonato threatened Guercio throughout the season — and even physically attacked her during the reunion.
"Natalie can physically lunge all she wants," Guercio laughs. "The truth of the matter is that she does not know me and I do no know her. She used something from my past that she knows nothing about as a storyline to get on the show."
Guercio has no words for DiDonato.
"I wouldn't say two freaking things to her because she is beneath me," she says. "She's nothing to me. She's South Philly trash. She's known to be hanging around with informants. She's a walking contradiction, a walking hypocrite."
Used to attacks from all sides, Guercio even felt like host Vivica A. Fox targeted her at the reunion.
"Vivica did not allow me to speak the entire reunion," Guercio complains. "I did not appreciate how London and I were treated. It was very one-sided and we deserve an apology."
Article continues below advertisement
Still, Guercio did have two allies throughout the season in Drita D'Avanzo and Big Ang.
Despite D'Avanzo momentarily leaving Guercio's side, they have since made up.
"Drita did apologize to me on the reunion about how things went because these girls were putting things in her head and Drita knows they're not true," Guercio explains. "We're great."
Big Ang, on the other hand, never stopped defending Guercio.
"I love Big Ang," Guercio gushes. "We have a relationship and a bond that nobody can break. I look up to her. She knows the BS that is going on and she doesn't believe it."
Guercio swears she "didn't come on TV to fight."
"I was attacked," she tells Radar. "I did not come to any sit-down meeting to fight with my hands. I came to speak as a grown and mature woman to these women — and obviously they couldn't take it. I was defending myself."
Article continues below advertisement
"This is not The Bad Girls Club," she adds. "This isn't WWE. I'm a mother and a business owner. I don't do things like that. I fight with my mouth and you're that stupid and you can't fight with your intelligence, then I don't know what to tell you."
Now, Guercio isn't sure if she will return for another season of Mob Wives.
"Do I want to be on a show that condones domestic violence or be around people who condone domestic violence and talk bad about our law enforcement?" she asks. "I have to really consider that."
But Guercio has other issues to mull over as well.
"I also have to consider if I'm going to keep being the target to these women," she says. "I am not having a repeat of what I had the past two seasons. "
"I am 32 years old," Guercio concludes. "I am so much younger than all these women, yet they act younger than me. I've never in my life witnessed this type of behavior with anyone."