Kelly Clarkson: I've Never Cared About Media Fat Shamers Like Katie Hopkins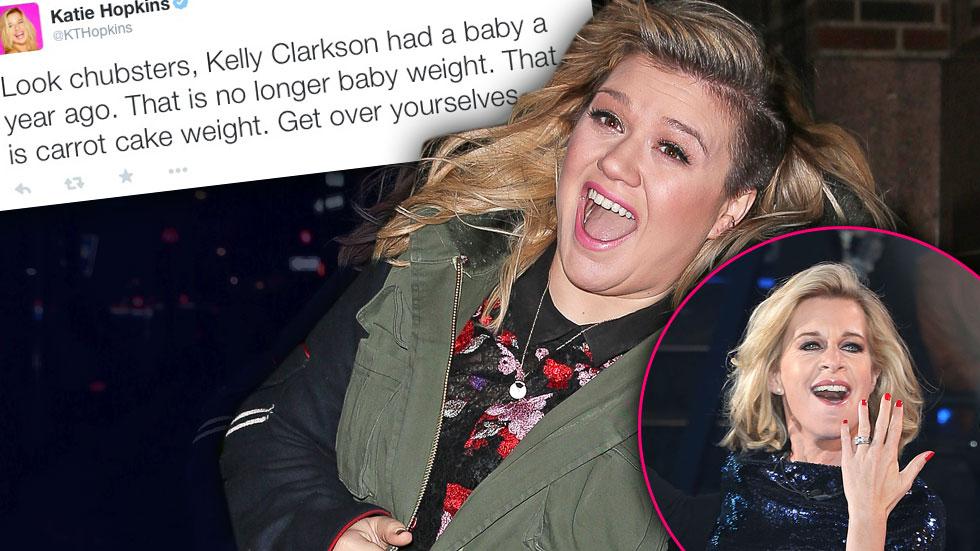 Kelly Clarkson doesn't care about fat shaming comments from English TV personality Katie Hopkins, or anyone for that matter, saying she's "just never cared what people think."
The 32-year-old actually didn't know who Hopkins was, according to Heat magazine, after Hopkins teed off on Clarkson's figure in a series of tweets last month.
"Jesus, what happened to Kelly Clarkson? Did she eat all of her backing singers? Happily I have wide-screen," Hopkins last month tweeted about the singer, who gave birth to daughter River Rose Blackstock last June. "Darling, if you had a baby a year ago, that is not baby weight. It is fat.
Article continues below advertisement
"Quit calling it cute names to make yourself feel better."
But the "A Moment Like This" singer wasn't going to take the bait and reward Hopkins with the publicity of a Twitter war after the cruel comments.
"She's tweeted something nasty about me? That's because she doesn't know me," the "Since U Been Gone" singer told the magazine. "I'm awesome! It doesn't bother me. It's a free world. Say what you will.
American Idol's first-ever champion said she's always put her own confidence and feelings over barbs from others, "and more so now, since having a family — I don't seek out any other acceptance."
As RadarOnline.com previously reported, the "Heartbeat Song" beauty earlier told Britain's Closer magazine that that she wasn't "willing to work really hard to be skinny," and accepted the idea that it "will take a long time to lose" the baby weight anyway.
Article continues below advertisement
Clarkson, on a media blitz for her new album "Piece by Piece," also appeared on What What Happens Live Thursday, reinforcing the same idea, in saying that she doesn't count calories to avoid the media's unending stream of reports about her waistline.
Watch the video on RadarOnline.com
"Screw 'em! I've never really pleased everyone," she told Andy Cohen. "It doesn't really matter what I do. If I'm too fat, then when I'm too skinny, then I'm too clothed.
"You just can't ever win!"