Exclusive
Even More Shocking Court Claims: Jon Gosselin Accuses Kate Of Locking Kids In Room All Night, Forcing Them To Eat Moldy Food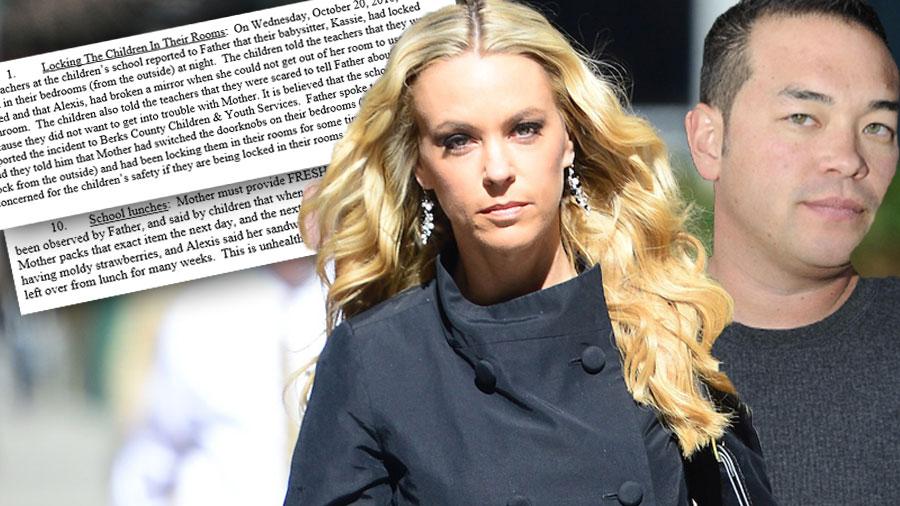 In shocking court papers, Jon Gosselin accused his ex Kate of spanking one of their eight children so hard, she left red marks on her bottom. But that's not the full extent of the abuse the former reality TV dad reported.
Jon, 37, also claimed in the 2010 documents that his former wife, 39, believed in locking the kids (twins Mady and Cara, then 10, and sextuplets Alexis, Hannah, Leah, Aaden, Colin and Joel, then 6) in their bedroom and refusing to let them out, even when they needed to use the bathroom.
Article continues below advertisement
Jon said that on October 20, 2010, two of the children's teachers told him that Kate's babysitter had locked them in their rooms from the outside at night.
According to the 2010 document submitted to the Berks County, Pennsylvania Court, "the children told the teachers that they were scared and that Alexis had broken a mirror when she could not get out of her room to use the bathroom."
"The children also told the teachers that they were scared to tell Father about it because they did not want to get into trouble with Mother," Jon's attorneys wrote.
When Jon spoke to his brood, they allegedly told him that their mother had "switched the doorknobs on their bedrooms so the doors only lock from the outside."
"Father is greatly concerned for the children's safety," Jon's lawyers stated, adding that new doorknobs pose a fire hazard.
Article continues below advertisement
According to Jon, Kate also ordered the kids not to tell teachers about what happens in their home.
"He is now not only concerned that the children will not come forward if something is wrong at home, but that they are being taught to lie," Jon's attorneys argued on his behalf.
When the Gosselin kids were let out of their room in the morning and sent off to school with their bagged lunches, they were still mistreated by their mother, Jon claimed.
"When they do not eat an item in their lunch, Mother packs that exact item the next day, and the next day until they eat it," the papers state. "Hannah reported having moldy strawberries, and Alexis said her sandwich was stale. Leah said she had some food left over from lunch for many weeks."
"Mother must provide FRESH lunch each day for children," the lawyers order.
Nearly five years later, the couple is still at war. Jon lashed out at Kate for featuring their kids in additional TLC specials last summer.
"I was heartbroken to learn my children are participating in yet another TV project," he said.
Around the same time, Kate said she was concerned for her kids' safety after Jon was reportedly caught firing guns on his property.