Exclusive
Gosselin Kids Abandoned? Kate Accused Of Ditching Sextuplets With Teen Babysitter For 6 Days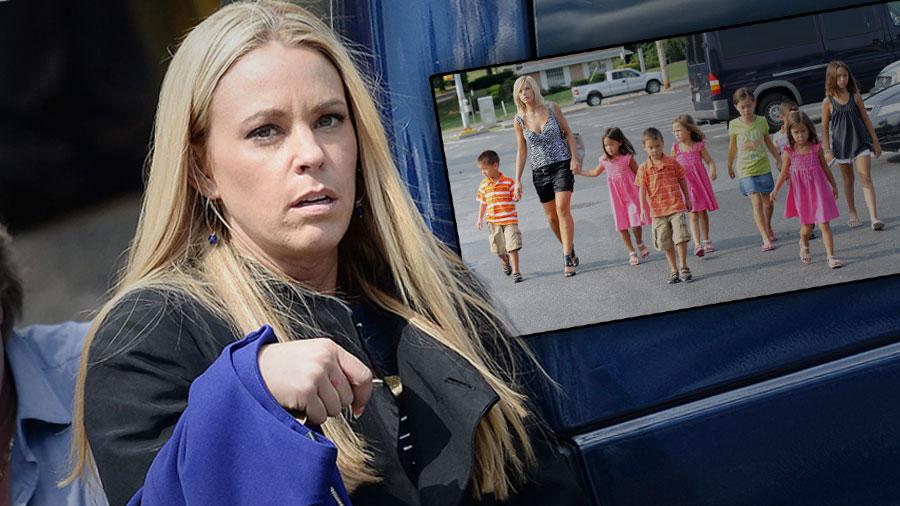 Kate Gosselin has eight children and a busy reality TV career, but she apparently refuses to rely on ex-husband Jon for help. Instead, Jon alleges, the Kate Plus 8 star leaves her large brood alone with a teen babysitter— for up to six days at a time!
In court documents obtained exclusively by RadarOnline.com, the former reality TV dad, 37, claims his bitter ex would rather leave his kids— twins Mady and Cara, 14, and 10-year-old sextuplets Aaden, Collin, Joel, Leah, Alexis and Hannah— in the care of a near stranger than their own father.
Article continues below advertisement
"Father has requested that he be given the option of caring for the children when Mother is unable to care for the children overnight during her custodial time," Jon's lawyers state in the October 2010 papers. "Mother has refused to agree to this request."
"Recently, Mother traveled with the two older children for six days and left the six younger children in the care of a 19-year-old babysitter," the attorneys claim. "Father was available, however, Mother refused to let the children stay with father and/or allow Father to stay in her home with the children."
In addition, Jon alleges that the he isn't even allowed to speak with his children over the phone when they're in the nanny's care.
Scorned Exes Tell All: Inside Hollywood's Ugliest Splits
"Mother has also instructed her babysitters that they are not to contact Father and/or provide Father with any information and/or accept phone calls from Father," the documents state.
As RadarOnline.com previously reported, Kate once gave a rulebook to caretakers that demanded they spy on phone calls between Jon and the children when contact was occasionally allowed.
"ALWAYS listen with one ear to hear what they are saying," she wrote. "You are always my eyes and ears and need to report everything you see and hear!!!"
Since their explosive 2009 divorce, Kate and Jon have been at each other's throats.
Jon has tried to stop Kate from featuring their kids on her TLC reality specials, while Kate has said she worries about the safety of the children in Jon's custody.
Will Jon and Kate ever call a truce? Sound off in the comments.