Exclusive
Giuliana In Danger? Rancic Pushed To Breaking Point Over Zendaya Dreadlock Drama -- 'Something's Got To Give'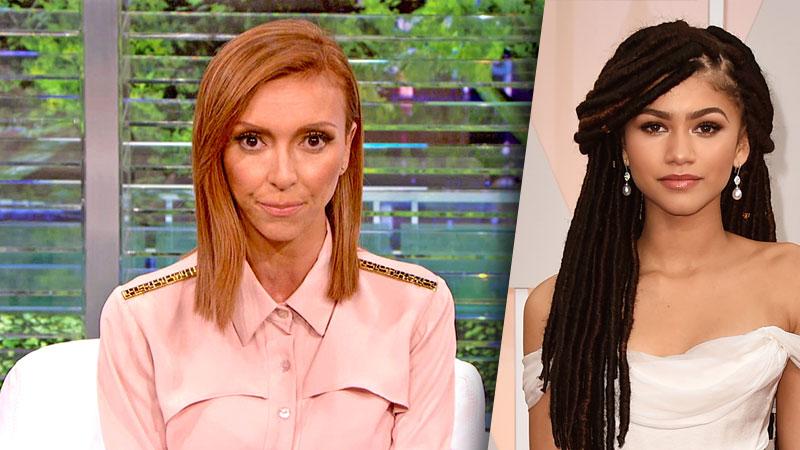 Fashion Police co-host Giuliana Rancic has had one of the most difficult weeks of her career thanks to comments she made about Zendaya Coleman's hair. Rancic apologized, and Coleman accepted, but RadarOnline.com has learned that the after-effects seem to be lingering for Rancic. Says a source close to the situation, "Everyone is really worried for Giuliana."
"It is a very awkward time because E! knows that Giuliana has damaged her reputation," the source tells RadarOnline.com exclusively.
Article continues below advertisement
As RadarOnline.com reported, Rancic, 40, got a full serving of backlash early this week after the Fashion Police co-host said "I feel that she smells like patchouli oil… or weed" when describing the 18-year-old's Oscar night dreadlocks.
Not only did the comment offend Coleman, and Rancic's co-host Kelly Osbourne, who both tweeted a series of messages directed at Rancic, but it also offended fans of the young singer and of the show, who saw the comments as being racist.
Even though Rancic was – the first on her Twitter and the second on-air during the E! News telecast – the insider tells RadarOnline.com, "It is going to be hard to keep Giuliana's fan base alive … countless people were offended by her remarks."
Adding to the pressure, Rancic's apparent weight loss has been drawing criticism for months, as fans and viewers have expressed their fears for the fragile-framed host on social media.
According to the source, "If there was ever a time that she would go and get help for whatever is going on with her health — if there is something — the time would be now. But people don't say anything to her and only say it behind her back. It is the pink elephant in every room she walks in."
"E! has gotten a ton of emails and calls asking them to pull her off the air, at least for the time being," the insider adds. "No one knows what is going to happen next, but something's got to give."