Client Gone Wild! Lawyers Fire Joe Francis Over Claims He Doesn't Return Calls Or Pay His Legal Bills — Read The Blistering Court Docs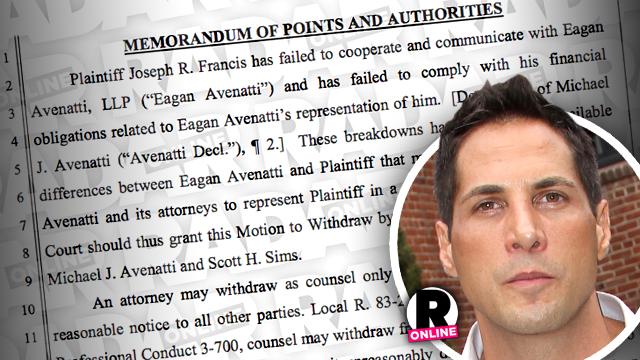 Lawyers for Joe Francis are firing the Girls Gone Wild founder as a client because he won't return their calls or pay his bills, according to court documents obtained by RadarOnline.com.
Francis hired the California law firm Egan Avenatti to file a defamation lawsuit against Steve Wynn after the billionaire casino owner sued Francis for defamation. Wynn, who won a $40 million jury verdict, called Francis "a digital assassin."
Article continues below advertisement
His lawyers are now citing "irreconcilable differences" in a request to the judge to let them off the case. Attorney Michael Avenatti said Francis "has failed to cooperate and communicate" by failing to "timely return telephone calls and emails – if they are returned at all," according to the documents.
He also accuses Francis of stiffing them by failing "to pay out-of-pocket litigation expenses related to Eagan Avenatti's representation of him."
"These breakdowns have created irreconcilable differences between Eagan Avenatti and Plaintiff that make is impossible for Eagan Avenatti and its attorneys to represent Plaintiff in a meaningful fashion," the lawyers told the judge in their motion to be removed from the case.
Francis built a porn empire off his Girls Gone Wild video franchise, which featured young women undressing and performing lewd acts for his camera. It all came crashing down in a storm of legal problems and lawsuits, including some from women who claimed the video was sold without their permission.