This Is What Charlie Sheen REALLY Thinks About 'Two & A Half Men' – Ex-Star Destroys 'People's Choice' Award In Shocking Meltdown​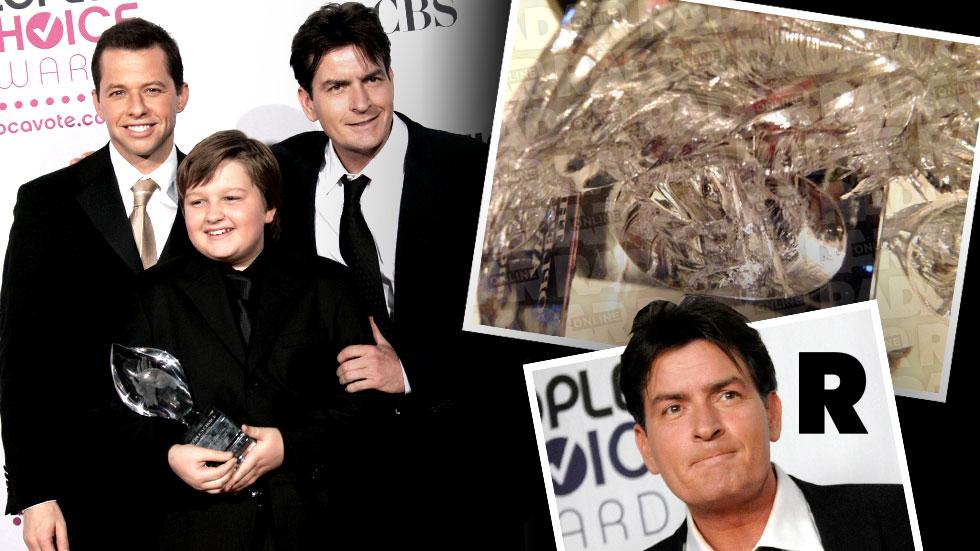 Two and a Half Men's Charlie Sheen went completely off the rails in a substance-fueled meltdown, locked himself in his room and slashed at his forearm in a bizarre self-inflicted attack that ended with the "People Choice Award" he was given years earlier, RadarOnline.com has learned.
The chaos at the October 2013 barbecue Sheen was hosting was sparked when the actor, who was allegedly blotto on a variety of pills, pot and single malt Scotch, lost his cool after his then-fiancée, adult actress Scottine Ross — also known as Brett Rossi — complained that his 70-year-old mother Janet "disrespected" her.
Article continues below advertisement
"Charlie's mother blew her off, because, as far as his mother is concerned, there were many other Scottines along the way," snipes the source. "So she was like, 'This is just another floozy.'"
Mother and son faced off in the kitchen, but the spat was loud enough for Sheen's horrified 15 guests, including his ex-wife Denise Richards and his dad Martin Sheen, to hear him calling his mother "a f***ing bitch," continues the source.
"She was giving it back to him saying, 'She is just another one of the many,' and he couldn't handle it. Charlie got all bent out of shape because he was convinced that he was in love with this girl and that he was going to marry this girl."
The verbal fisticuffs lasted several minutes before Sheen, now 49, locked himself in his bedroom and began blasting ear-shattering heavy metal music over the home's speaker system.
Article continues below advertisement
"He ran to his room like a baby with a hand grenade," the source reveals. "His guests were like, 'Really? Again?'"
Thankfully, none of Sheen's four young kids was at the shindig to see their father emerge from the balcony and hurl the 14-inch-long People's Choice trophy made from hand cut Waterford crystal.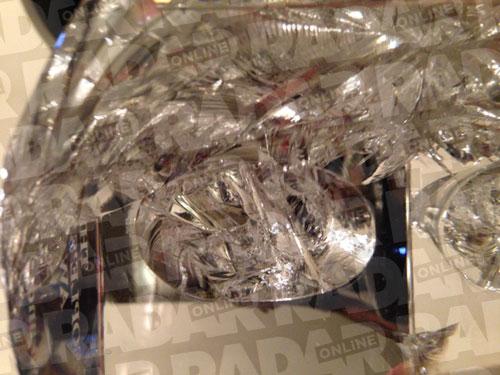 "It didn't hit anybody — it hit the terrace and part of it went into the pool," the source says.
Holed up in the bedroom, Sheen then used a knife to slash his left forearm before his security guards crashed into his room and stopped him.
This incident provides insight into what the mercurial actor REALLY thinks about the show from which he was dumped.
As RadarOnline.com previously reported, his nemesis, Chuck Lorre, took a parting shot as Two and a Half Men wrapped up its 12-year run last month.
Lorre, on one of his vanity cards, confirmed that the actor "was offered a role" in the last show but ultimately passed due to creative differences.
Article continues below advertisement
Lorre, the mind behind The Big Bang Theory and Mike & Molly, said he wanted Sheen to appear in the series' final scene "and go off on a maniacal rant about the dangers of drug abuse," before delving into crazy talk reminiscent of his public meltdown during his falling out with the show four years ago.
"And then we would drop a piano on him," Lorre wrote. "We thought it was funny. He didn't."
Lorre said his former leading man "wanted us to write a heart warming scene that would set up his return to primetime TV in a new sitcom called The Harpers starring him and Jon Cryer.
It proved to be a tense end to the cold relationship between Sheen and Lorre dating back to March 2011, when RadarOnline.com was at the forefront of their feud, including Sheen passing a drug test after CBS halted production of the series, citing the actor's "conduct and condition."
Sheen's memorable series of exchanges with RadarOnline.com famously resulted in a number of offbeat phrases still rattling around the pop culture lexicon, such as "Winning," "Tiger Blood" and "Vatican Assassin."