Behind The Scenes Of Bruce's Transition & The 'Even Greater Divide' It's Caused— Kris 'In Mourning'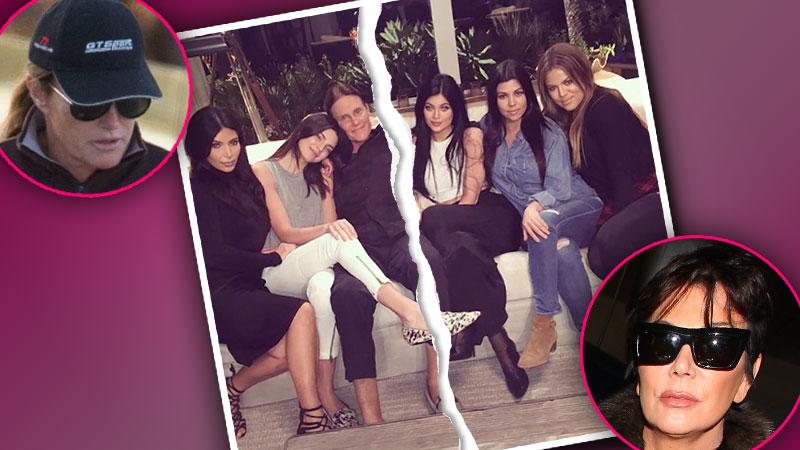 "We just have to get used to our new normal," Kim Kardashian declared on the season premiere of Keeping Up with the Kardashians.
While she was talking about Kris and Bruce Jenner's divorce, the thought could extend just as easily to her stepfather's ongoing transition from male to female.
While loved ones appear to be getting used to the idea of Bruce's life-changing decision, it wasn't always that way. "The whole family went through a rough patch," a Kardashian insider told People. "It's naturally a difficult thing to process and work through."
Article continues below advertisement
But a KUWTK production source noted to the magazine that Bruce going public with his transition caused "an even greater divide" in the family than his split from Kris.
Some insisted 65-year-old Bruce constantly tweaking his look was the result of a mid-life crisis and "thought he was trying to feel young, that kind of thing," the family insider said.
As for Kris, 59, the insider explained to the magazine that she "just couldn't emotionally handle it all when he finally came out with it."
She "went through a mourning period" and now the two "don't really talk," said the insider.
As RadarOnline.com reported, some were confused about Bruce when it was rumored he was dating Kris' best friend, Ronda Kamihira.
However, the insider revealed, the two "had some kind of special bond" and were never a couple.
"It seems more like he confided in her," continued the source. "She would buy him feminine things he wanted."
Today, the reality dad is finally comfortable in his own skin and learning to rely on himself — while waiting for his family to come around completely. "He seems happy he can live his life the way he feels he's intended to," said the insider.