Exclusive
Bad Call? Bruce Jenner Crash Data Suggests Phone Could Have Caused Crash — As He's Caught Texting & Driving AGAIN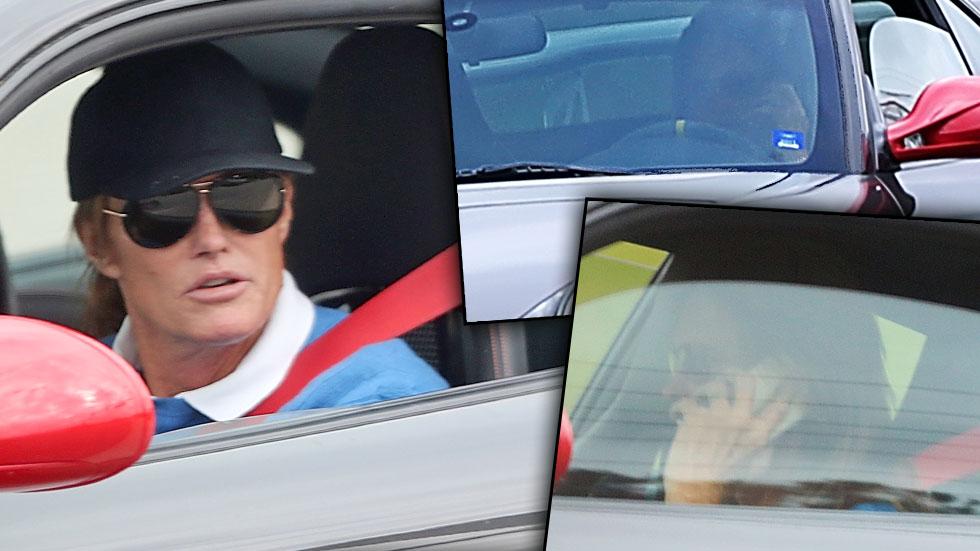 Bruce Jenner has been caught driving while talking on a cell phone twice since the fatal car crash in Malibu, and RadarOnline.com has learned that the incidents could have serious consequences as cops continue to investigate the tragic accident. ​In fact, according to an insider, the latest data from the crash suggests phone use may have been the root cause.
On Friday, Bruce was behind the wheel of his Porsche, talking on his cell phone, which is illegal in California. And it wasn't the first time: Three days after the car accident in which Jenner rear ended a Lexus, killing the elderly driver, he was seen driving a Ford, and talking on the phone.
Article continues below advertisement
As prosecutors await the results of the investigation from cops, the incidents could have wider implications than he knows.
"Bruce talking on his cell phone while driving — not once, but twice — shows a blatant disregard for the laws while driving a motor vehicle," a source close to the investigation tells Radar. "Having been involved in a fatal car crash, one would hope Bruce would follow the letter of the law."
"There is absolutely no reason for Bruce to be talking on the phone, unless he was experiencing an emergency," the source continued. "While these incidents happened after the fatal car crash, if prosecutors decide to file any criminal charges against him, including vehicular manslaughter, it could be quickly established that he was reckless behind the wheel."
"Photographers follow Bruce around the clock, so it's also very puzzling that he would choose to break the law, because the pictures will come out," a source told Radar.
Article continues below advertisement
What's more, the latest findings in the investigation indicate that cell phone use could have been a factor, said the source.
Though Jenner's rep insists he was not texting at the time of the crash,"The black box from Bruce's Escalade reveals he hit the brakes literally one to two seconds before impact. Cops believe something from a cellphone ringing, text message, or something else in the car distracted Bruce before the crash," the insider explained.
After the car accident, Jenner moved from an oceanfront mansion in Malibu, to a more secluded hilltop residence in the hopes of avoiding those cameras and distancing himself from the accident scene. The $3 million home has four bedrooms and four baths — plenty of room for the Kardashian/Jenner family to visit.
But meanwhile, the source added, "Bruce's lawyer needs to get control of him, and still him to stop talking on the phone while driving! It's dangerous and illegal."