Exclusive
Suicide Threat? Nick Gordon Tweets Desperate Message To Bobbi Kristina Brown: 'I'm So Hurt I Wanna Do Myself In'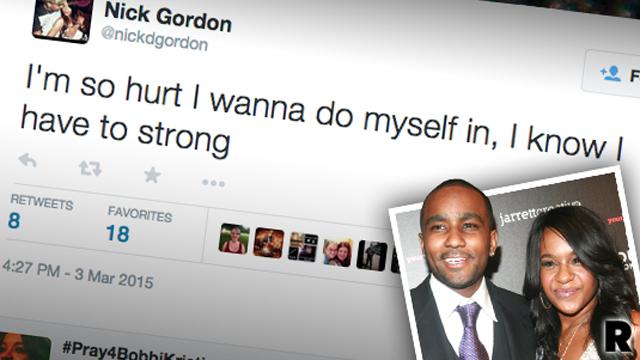 Nick Gordon's Twitter messages grew increasingly sad and desperate on the eve of Bobbi Kristina Brown's 22nd birthday, including one posting that reads like a suicidal threat.
"I'm so hurt I wanna do myself in, I know I have to strongsic," Gordon tweeted Tuesday evening. His lawyer did not immediately respond to RadarOnline.com's inquiry about concerns for his safety.
Gordon has not seen his girlfriend — whose birthday is Wednesday — since she was rushed to an Atlanta hospital after he and a friend found her unresponsive in a bathtub on January 31. Her father Bobby Brown has rejected Gordon's repeated pleas for a visit to her bedside at Emory University Hospital, where she has been in a medically-induced coma for weeks.
Article continues below advertisement
"I love you soooooooo much plz wake up," Gordon tweeted earlier.
Along with the pain of separation from his girlfriend — who called him her husband — and her tragic medical condition, Gordon must deal with a criminal investigation into what happened in the days and hours before she was found in the tub.
He has not been named as a suspect, but tweeted Tuesday, "You all blame me but I tried my best and it wasn't good enough for you sorry."