Exclusive
Caught In A Web Of Drugs? Heroin Deaths Explode In Bobbi Kristina Brown's Neighborhood — Shocking Statistics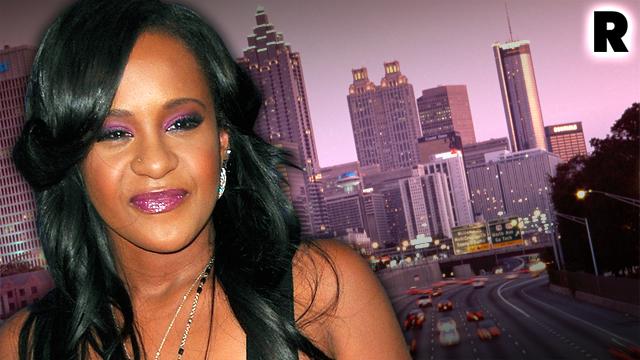 As Bobbi Kristina Brown lies comatose in Georgia hospital, Whitney Houston's daughter was far from alone when it came to her rapid downward spiral into drug use. According to crime statistics, she's part of a wider drug epidemic sweeping the area — one that has seen deaths from heroin on the rise.
As the 22-year-old graduated from snorting cocaine and smoking marijuana at 18, she turned to a darker drug – heroin – the hardcore narcotic that RadarOnline.com has learned has become an epidemic in Brown's hometown as deaths have more than doubled in the last year alone.
Article continues below advertisement
"For most people in Alpharetta and Johns Creek, that's like saying you smoke pot," a source close to Brown and her "husband" Nick Gordon, who claims to have done heroin with the hospitalized 22-year-old, told RadarOnline.com. "In Atlanta and the suburbs it's widespread. It was really bad."
The young couple made their home in the Atlanta area living in an apartment in Alpharetta and a townhouse in Roswell that they once shared with the late Grammy winner – the same residence where Bobbi
Kristina was discovered face down in a bathtub Jan. 31. According to statistics obtained by RadarOnline.com for Fulton County, Georgia, there were 70 heroin-related accidental deaths in 2014 – more than double the amount in 2013, which was cited as 31.
In 2014 alone, 10 of the deaths were in Brown's neighborhoods of Johns Creek, Alpharetta, Milton and Roswell. Others were in outlying areas of Atlanta, Palmetto, Sandy Springs, and unincorporated Fulton County.
MORE ON:
Bobbi Kristina Brown
Article continues below advertisement
And at least 21 of those 70 deaths also involved cocaine – a drug which Bobbi Kristina made headlines for abusing when she was caught on camera in 2011.
The number of deaths last year is even more staggering when compared to 2003 through 2007 when there were only 11 heroin deaths in five years.
Other than those who died from the lethal drug, according to Johns Creek Police, between April 2010 and February 2015, police made 22 reports of heroin possession. According to preliminary numbers from the Alpharetta police, one investigative unit alone has made 28 heroin-related arrests since 2010.
As RadarOnline.com exclusively reported, Brown surrounded herself with close friends who were heavily involved in the local heroin circle, including 20-year-old Chelsea Bennett, who died of an overdose last year, and 43-year-old Paige Thompson, who's in prison after a police raid of her house uncovered the drug and paraphernalia used to sell it.
In addition, Gordon's BFF and roommate Mason Whitaker also had a major brush with the law for intent to sell weed and much more when he was just 20 years old.