Exclusive
Another Weiner? Anthony's Mistress Sydney Leathers Names Another Kinky Politico — His X-Rated Texts Revealed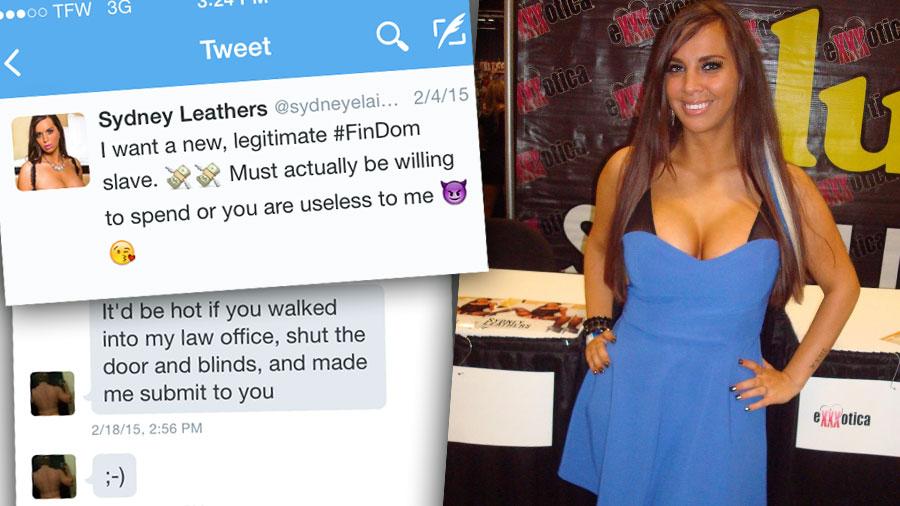 They never learn! More than one year after Sydney Leathers made international headlines for catching politician Anthony Weiner in a sexting scandal, RadarOnline.com has learned she claims she's recently been at the receiving end of X-rated texts from yet another kinky lawmaker — who wanted to be her sex slave! Indiana State Representative Justin Moed has been named as the latest man to be caught ​sending the college student turned porn star a series of steamy messages, gifts and naked pics for several weeks, and RadarOnline.com has all the details.
Article continues below advertisement
*WARNING GRAPHIC CONTENT*
The dirty dalliance began on February 4, when Leathers tweeted that she was looking for "a new, legitimate, #FinDom slave." One of the first to reply was a user named @B*tchBoy, who seemed "really enthusiastic about it," Leathers told Radar. "I believe he started paying me like immediately."
"He didn't want me to know who he was," she said. "He wouldn't pay me normally through Paypal. He would get prepaid stuff. He even said something like 'I'm not trying to be weird, but I can't tell you who I am.'"
But when he sent her a gift from Amazon, a name was exposed: that of Indiana Democrat, Justin Moed, 31.
"His name was on the billing stuff," she said. And when she Googled him, "I noticed the campaign signs," Leathers said. "It was too d**n funny."
Moed has not yet responded to Radar's request for comment. The man pictured in photos sent to Leathers resembles the Indiana lawmaker.
Looking back, there were signs she could be talking to another politician. "He had told me he was a Democrat and we definitely talked about liberal issues a little bit," she said. But most of the time, their chats — which took place "mainly through Twitter" direct messages, were much more X-rated.
Article continues below advertisement
The titillating texter "was not shy at all" about his desires to be dominated, according to Leathers.
"He was literally like telling me immediately he wanted to give me a strap-on to use on him," she told Radar. "A big black one. Later in our conversation, he admitted to me had been with a black guy before as a bottom."
"He also talked about … I guess he had had a dominatrix before and she made him wear a French maid outfit and clean her house and clean her car he wanted to do that for me," she said. "He also wanted to be in a closet tied up and be forced to watch me be with my boyfriend."
And despite his clear desire to be dominated, Leathers said, @B*tchBoy "did say he was very alpha and dominant in his real life."
As their conversations continued, her texting partner, then named as Moed on receipts, began sending Leathers gift cards and Amazon gifts — as well as photos of his behind .
"I didn't ask for it," she said. "He just kind of was like, 'Here.'"
Their relationship came close to going offline online once later in their relationship, Leathers said, when he asked her to meet in person.
Article continues below advertisement
"One Thursday he wanted to meet up, but I was just a little creeped out," she said. "He was trying to come to Evansville. I was making every excuse. For one, I was uncomfortable so I made up a bunch of excuses. He said he had strep throat anyways. He always made it very clear he was willing to drive down."
Now, Leathers says her decision to go public is probably the ultimate gift to her former would-be paramour.
If her texting partner — first exposed by The Dirty.com — wanted to remain anonymous, Leathers said, "Maybe he should have picked someone else! Maybe he wanted this kind of attention. Maybe it's a self-sabotage thing. Maybe this is his ultimate way of being degraded and getting off on it."
For more on the story — including the X-rated texts — stay tuned to RadarOnline.com.