Cancer Scare Over: Angelina Jolie Makes First Public Appearance After Surgery With Adorable Daughters By Her Side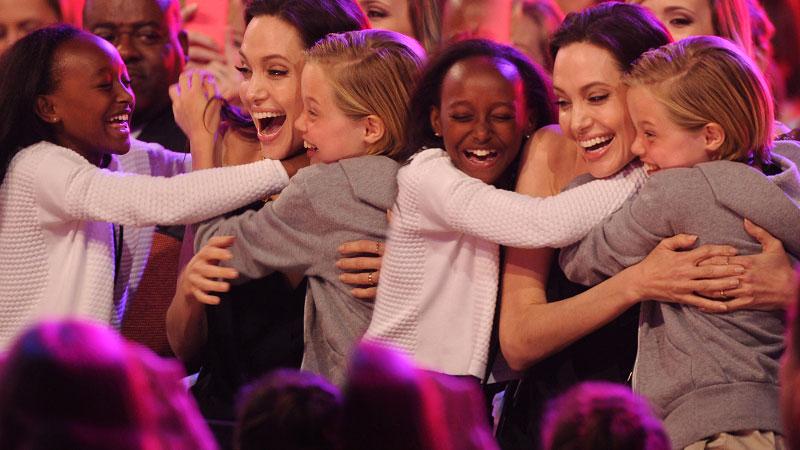 Brave Angelina Jolie made her first public appearance since she revealed she'd had surgery to have her ovaries and fallopian tubes removed as a preventative measure against cancer.
The Maleficent star surprised fans by showing up with daughters Shiloh, 8, and Zahara, 10, at the 2015 Nickelodeon Kids' Choice Awards on Saturday night.
And, as usual, Brad Pitt's wife looked stunning, as Jolie wore a black dress and hugged her kids as she sat in the audience and enjoyed singers Iggy Azalea, Nick Jonas, and Jennifer Hudson perform.
Article continues below advertisement
Then, after Jolie, 39, won the award for Favorite Villain for her role in Maleficent, she urged the youngsters in the crowd to feel good about being different.
In her speech, Jolie revealed, "When I was a kid I was told - like Maleficent - that I was different. But then I realized something: different is good. So maybe you don't fit in. Be yourself. And when someone tells you that you are different just smile and hold your head up, and be proud.
"And as your villain," she winked, "'I would say, 'Cause a little trouble. It is good for you!'"
Jolie's upbeat appearance occurred less than a week after she wrote on the New York Times website about why she'd had her ovaries and fallopian tubes removed—she carries a gene that gave her a 50 percent risk of developing ovarian cancer.
The star wrote in her op-ed piece, "Diary Of A Surgery": "I went through what I imagine thousands of other women have felt. I told myself to stay calm, to be strong, and that I had no reason to think I wouldn't live to see my children grow up and to meet my grandchildren."
MORE ON:
Kids Choice Awards
Article continues below advertisement
Jolie, who is raising six kids—three adopted and three biological—with Pitt, told fans in her article that she wouldn't be able to bear any more children (but of course, the star has not ruled out adopting more kids with her husband).
Two years ago, as RadarOnline.com reported, Jolie made a bombshell disclosure in an op-ed about how she'd undergone a double mastectomy to prevent the onset of breast cancer.
Her story inspired women around the world to think about their own health histories.