'Slender Man' Stabbing Suspect's Disturbing Drawings & Mutilated Dolls: 'I Love Killing People'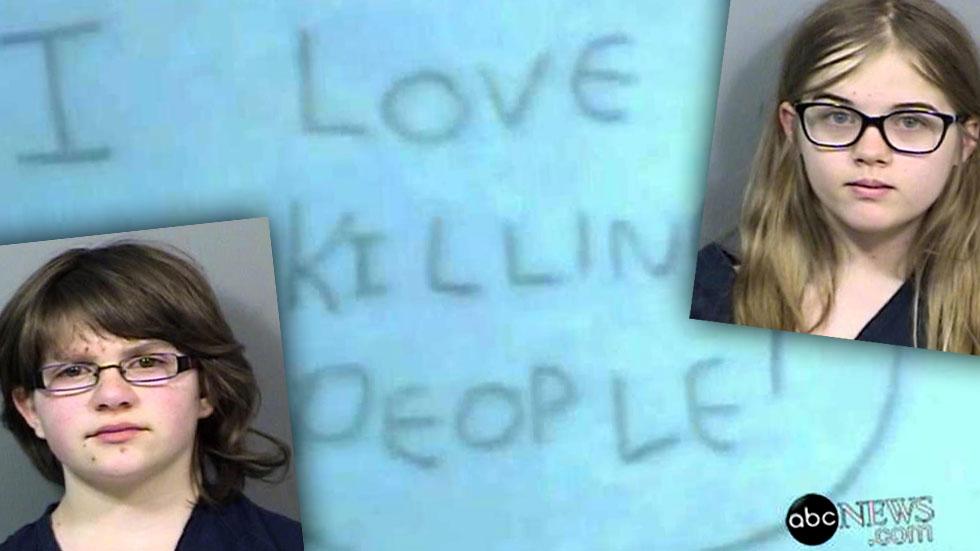 The notebook of 12-year-old girl suspected of stabbing her best friend – along with fellow classmate and accomplice – in honor of fictional character Slender Man was released to a Wisconsin court.
The disturbing journal was used during the preliminary hearing for Morgan Geyser on Tuesday, in which the judge must determine if she will be charged as an adult for attempted first-degree murder.
Geyser's drawings include chilling cartoons of a young girl standing over another girl's corpse with a speech bubble saying, "I love killing people."
Article continues below advertisement
Other writings and drawings reveal her obsession with the Slender Man, a fictional character she and accomplice Anissa Weierwere hoping "to please" in their attempted killing.
But the cartoons weren't the worst of it. The court was also presented with Geyser's Barbie dolls, all of which were mutilated. On each doll, the hair and limbs had been dismembered and satanic markings were found covering their torsos.
Prosecutors also presented Geyer's list of "Supplies Necessary," including a "map of forest" and "weapons (kitchen knife)."
Should the girls be charged as adults and found guilty, they face up to 60 years in prison.
Story Developing.