Slenderman, Brave Girl: Victim, 12, Appears On Camera After Classmates Stabbed Her 19 Times: Parents Say She Told Them, 'I Wanted To Live'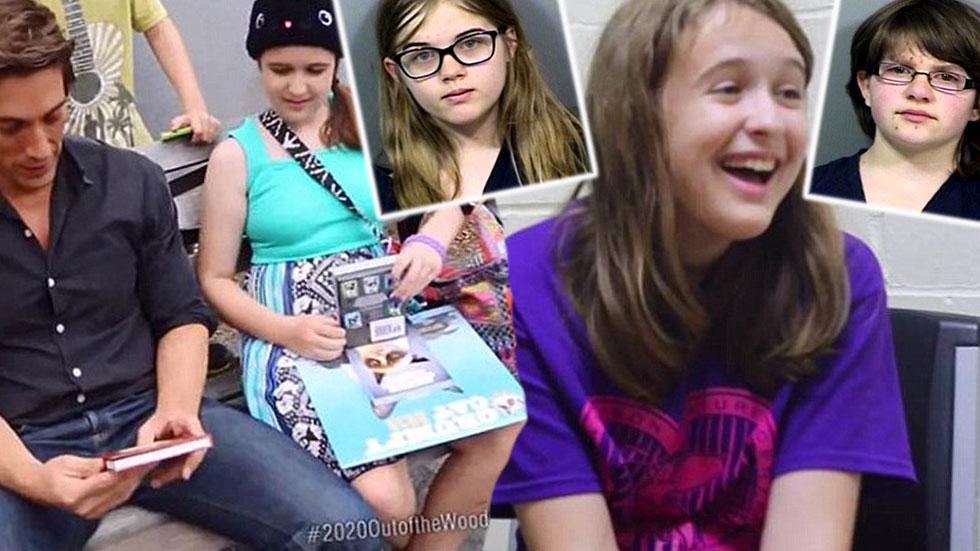 The girl whose two female child friends walked with her into the woods and stabbed her 19 times after a sleepover has bravely revealed herself on camera for the first time.
Payton Leutner, 12, appeared on ABC's Friday night 20/20 with David Muir to show the world she's recovered.
And her parents Stacie and Joe Leutner spoke out about the gruesome case in which Payton's young pals Morgan Geyser and Anissa Weier attacked her in the name of the fictional internet character known as slenderman.
Article continues below advertisement
After a slumber party in late May, investigators say the victim's friends lured her into the woods with the promise of playing hide-and-seek, but the innocent fun quickly turned for the worse when the two girl friends – also 12-years-old – stabbed her arms, legs and torso.
According to cops, after the two carried out the diabolical act they'd been planning for months, Payton was left to die in the Milwaukee, Wisc. suburb of Waukesha in late May.
The two girls charged in the case allegedly told investigators they attempted to kill Payton in order to please slenderman, a character they learned about on a horror website.
Although Payton didn't speak on 20/20, Payton's mom Stacie told the news program that her daughter vowed, "I wanted to live."
Payton also told her parents she recalled "sensing something was wrong" and trying to back away as she neared the woods with her two classmates.
Payton barely made it through the attack after she crawled out of the forest and a passerby found her; she was rushed to the hospital.
"I heard one nurse say, 'I count 19 stab wounds,'" Stacie shuddered.
One of the wounds was so deep that "she was less than a millimeter between living and dying," the horrified mother said.
Her father Joe added, "She's definitely our hero."
Morgan Geyser and Anissa Weier have been charged as adults for first-degree intentional homicide but there have been disputes over whether the two young women will be competent to stand trial.