Exclusive
'Answer The Question!' Watch Angry 'NCIS' Star Pauley Perrette Flip Out In Heated Deposition Over Secret Script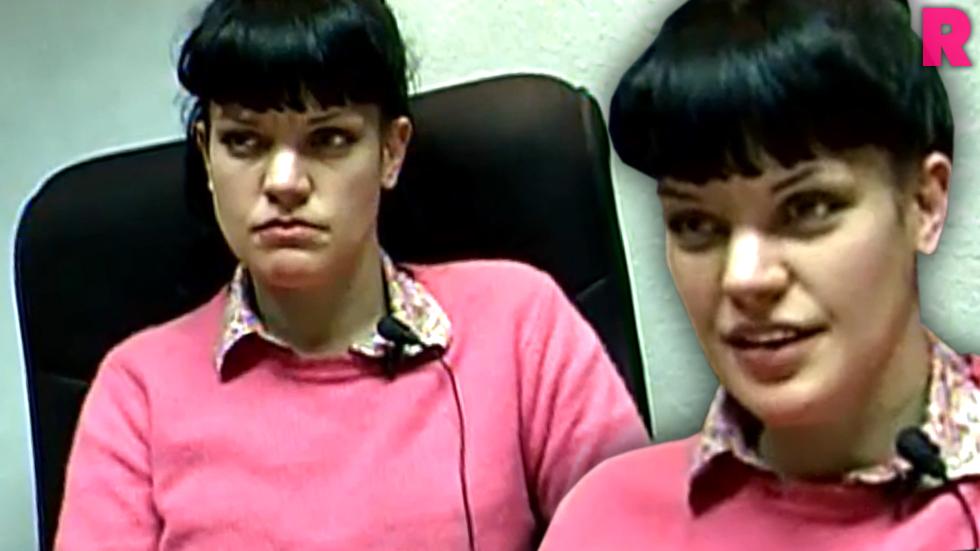 This is one on-screen performance that NCIS star Pauley Perrette desperately does not want her fans to see. RadarOnline.com has obtained video of the popular TV actress smirking, snapping at lawyers, and flipping out during a heated deposition as part of her bitter divorce case. Now, her lawyer is heading to court over the footage!
Perrette sat for the deposition in 2006 as part of her messy divorce from husband of three years, Francis "Coyote" Shivers. The two were battling over whether certain scripts and treatments she penned during their marriage were community property. And as his attorneys peppered her with questions, Perrette's frustration was obvious. Smirking, fidgeting in her chair, and avoiding eye contact, Perrette was argumentative from the start.
Article continues below advertisement
WATCH THE VIDEO:
Asked how she came up with a $150,000 value for the documents and journals at the center of the dispute, she said, "I don't know! It's an impossible situation to be in."
And when questioned about the titles of the materials, she was just as coy: "No they don't have titles," she said, "and I don't want to say because I don't want him to steal them either."
"Is one of the scripts called 'Star Crazy?'" Shivers' attorney pressed.
"Yeah," a surprised Perrette admitted, before angrily accusing, "How would you know that?!"
Obviously in disbelief as the attorney described the script, Perrette looked at her own lawyer for guidance. "I would object to the relevance of this," he said, but Shivers'' attorney insisted that "any scripts written during the marriage are a community asset."
Perrette continued to refuse to address the issue until pressured by her attorney to do so. But even then, she was defiant.
Article continues below advertisement
"The way that you just paraphrased one of my pieces of writing, that's not even, that's not even a fair representation of the way I write," she said. "I"m not going to answer that."
"Well I don't think it was intended to be a fair representation of your writing …" the attorney said, insisting she was "simply asking" what the story was about.
"Please just answer the question," Perrette's attorney said. "…I don't want you arguing with the counsel."
Still, she refused.
Almost as soon as the tape went public, Perrette's attorney brought the issue before the L.A. City Attorney who took the matter to the judge on Friday at a progress hearing over Perrette's ex, Shivers' restraining order case. A hearing on the matter is set for February 20.
Shivers told Radar, "I maintain this is all an attempt to suppress the truth about Ms. Perrette from being exposed."
Article continues below advertisement
Shivers filed for divorce from Perrette in 2004, and unsuccessfully sought a restraining order against her the next year. She won her own protective order shortly thereafter. Shivers violated that order and was criminally convicted and sentenced to nine months in jail.
Perrette has claimed she endured physical and emotional abuse from Shivers during and after their marriage, while he has said he is an "unwilling victim" who has endured a "decade-long campaign of harassment" from the TV star. A case he brought against her making those claims was dismissed late last year.