Exclusive
'Be A Man & Step Up!' Pam Anderson's Lawyer Slams Rick Salomon For Skipping Town After Divorce Filing, 'Avoiding' Process Server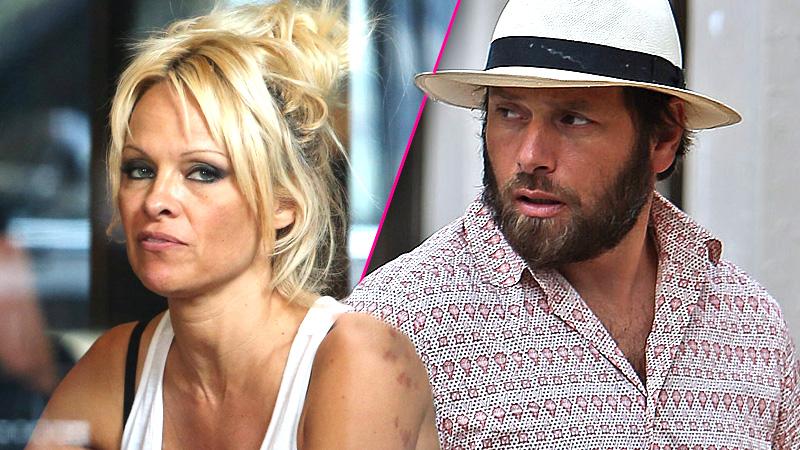 Just days into Pam Anderson's latest attempt to divorce Rick Salomon, the on-off couple are already at war! Salomon surprised Anderson by requesting an annulment, but now her attorney claims Salomon has skipped town and is avoiding a process server attempting to give him divorce papers.
Divorce attorney Fred Silberberg tells RadarOnline.com exclusively, "Rick needs to stop avoiding the process server attempting to serve the divorce papers. He needs to be a man and step up and take care of his minor daughter. Pam wants to sit down with Rick and his attorney to attempt to resolve this matter peacefully."
Article continues below advertisement
In the meantime, Silberberg said, Salomon is missing in action.
"Rick told Pam last week he was leaving for Las Vegas for two weeks, leaving his daughter Tyson at her Malibu Colony house," Silberberg claimed. "Arranging no alternative care for Tyson, and just leaving town is unacceptable for a father to do."
Taking particular issue with Rick filing for an annulment of their marriage in Las Vegas, the legal ace added, "Rick doesn't state what the fraud is in the filing in Las Vegas. He owns a house in Las Vegas, but the filing is lacking jurisdiction because neither party has lived in Nevada."
But one thing is clear: Silberberg said, "The reason for the divorce is simple, Pam and Rick just don't get along."
Salomon, 47, who gained his notoriety starring opposite Paris Hilton in her sex tape, married Anderson for the first time in 2007, but she annulled the union after only two months. In Jan. 2014, she surprised everyone by announcing that she had wed him again.
However, as RadarOnline.com previously reported, the 47-year-old blonde bombshell filed for divorce from her poker-player husband for the second time in July. Shortly after that filing, the two reconciled and Anderson put a stop to the divorce proceedings.
The Baywatch star filed for divorce yet again on February 15.
As for allegations that Salomon's dog, Bumblebee is missing, and no longer at Anderson's house, Silberberg said, "The dog is safe. As anyone knows, Pam is a huge animal lover, and does tons of work for their welfare and safety. Rick needs to stop leaking false stories to the press and take responsibility for his actions."