Exclusive
Done For Good! Pamela Anderson Files For Divorce From Rick Salomon, Again — The Other Man Revealed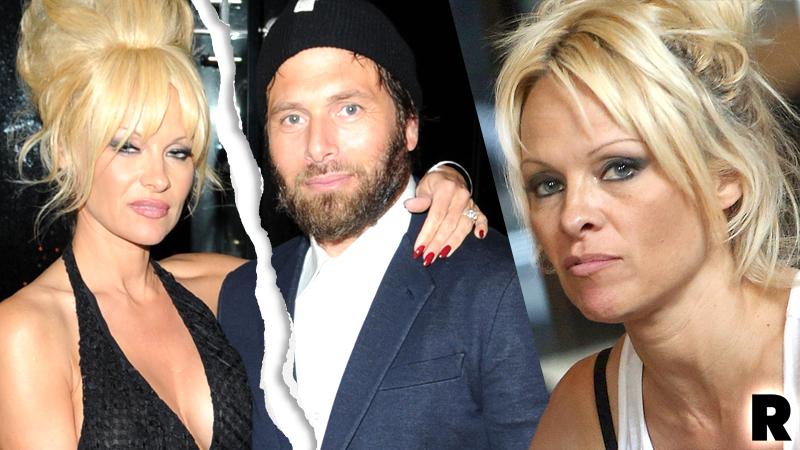 It's three strikes, you're out for Pamela Anderson, who has just filed for divorce from her on-again, off-again husband Rick Salomon for a third time. According to a source close to the couple, this one will likely stick — because another man has come between them!
"Pamela has been hanging out again lately with her gay best friend, photographer David LaChapelle," a source close to the former Baywatch beauty tells RadarOnline.com exclusively.
Article continues below advertisement
"David has never liked Rick, and vise-versa," the source continues. "He and his friends convinced her that she can do better and that it was time to leave him, so she did."
According to the insider, "Pamela stopped listening to what Rick had to say because she is convinced that Rick is not only trying to ruin her good time, but he is also trying to ruin her career."
"They had a blowout fight recently because Rick suggested that she retire and Pamela was not having any of it."
On Feb. 7, LaChapelle did Anderson up for a photo shoot. Said the insider, "He wanted to show her that, not only is he her friend, but that her career is far from over."
Salomon, 47, who gained his notoriety starring opposite Paris Hilton in her sex tape, married Anderson for the first time in 2007, but she annulled the union after only two months. In Jan. 2014, she surprised everyone by announcing that she had wed him again.
Article continues below advertisement
However, as RadarOnline.com previously reported, the 47-year-old blond bombshell filed for divorce from her One Night In Paris porn-star turned poker-player husband for the second time. But shortly after filing, the two reconciled and Anderson put a stop to the . "Honestly, the only thing that was keeping them together at the end was their sex life," says the source.
This is not the first partner that Anderson has gone down the divorce road with. She was married to rockers Kid Rock and also to Tommy Lee, whom she has two sons with – Brandon, 18, and Dylan, 16, Yesterday, on Feb. 12, Anderson took to her Instagram to share with her fans a photo of her looking somber, along with a caption that read: "Good, better, best -- things are better and the best is yet to come."
Do you think that Pamela Anderson and Rick Salomon will get back together for a fourth time? Let us know in the comments below.