Permanent Reminder—Desperate Nick Gordon Sends Message With New Bobbi Kristina Brown Tattoo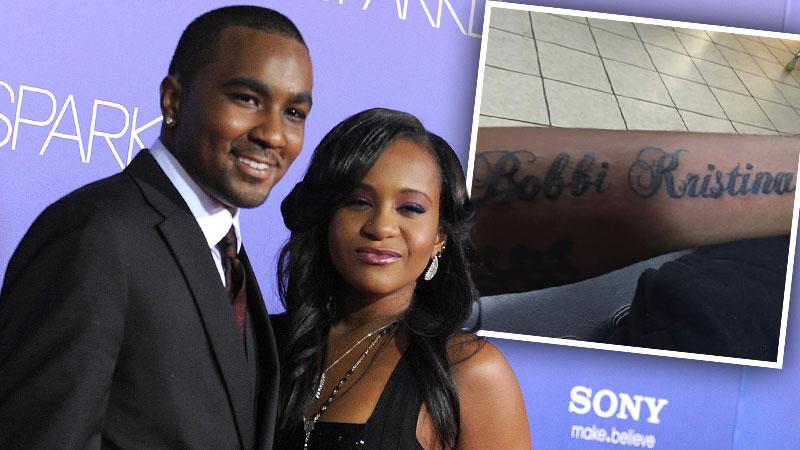 Nick Gordon has found a permanent way to show the world and Bobbi Kristina Brown's family that he'll never forget about his girlfriend—no matter what happens to her.
As Brown remains in a medically induced coma since being found facedown in her bathtub almost three weeks ago, Gordon is demonstrating his undying devotion to the love of his life with a new tattoo.
RadarOnline.com has obtained a telling photo of the fresh ink, which seems to be a tribute to the 21-year-old daughter of Bobby Brown and the late Whitney Houston.
Article continues below advertisement
The shot posted to Facebook on Sunday shows Gordon still in a tattoo parlor chair, proudly showing off his left forearm that's freshly marked with the words "Bobbi Kristina."
Brown's self-proclaimed "husband" didn't include a caption with the post-Valentine's Day pic.
The last time Gordon honored someone close to him was more than two years ago when he and Brown got matching "WH" tattoos in memory of what would have been superstar singer Houston's 49th birthday.
Gordon's tattoo declaration of love comes at a time when his relationship with the Brown and Houston families is more hostile than ever. He's been banned from visiting her hospital beside, and, as first reported by Radar, Brown's aunt Pat Houston took out a restraining order after he allegedly threatened violence against her unless she gave the young couple more money from Whitney's estate.
Despite the ongoing drama, Gordon's attorney recently released a statement insisting that his client's "only concern is the recovery of Bobbi Kristina."