Exclusive
Kardashians At War! Kris Jenner Demands Family Take Sides Over Bruce's Transformation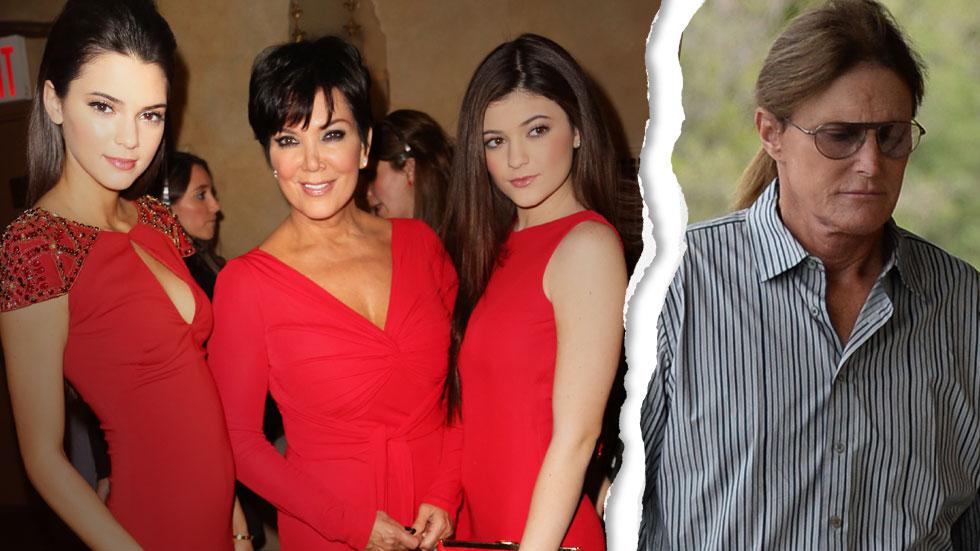 Bruce Jenner's shocking – yet brave – decision to document his transition from a man to a woman on camera may be bringing him closer to his sons, but it's tearing the rest of the family apart! RadarOnline.com has learned his ex-wife Kris is drawing a line in the sand, demanding her daughters Kendall, 19, and Kylie, 17, take sides in the unfolding drama. Will they choose Kardashian money or the love of their father?
Article continues below advertisement
"Aside from business, it's a family divided," a source close to the reality stars told RadarOnline.com — and tensions recently came to a head.
"They recently came together to talk about Bruce being on the next season of the show and how that's going work out," the insider explained.
"Kendall and Kylie have been taking Bruce's side and that's p***ing off Kris," added the source. "She's like 'Do you want to be a Kardashian or do you want to be a Jenner?' The Kardashians are where the money is right now.
As Kendall's modeling career has skyrocketed despite being associated with the controversial reality clan, Kylie's faced a more difficult decision – and her mom hasn't made it easy.
"The girls are a little confused. Kendall was taking Bruce's side a little bit more, but Kylie was the one that was having a problem because her career hasn't really taken off," continued the source. "And Kris basically gave her an ultimatum and said if she took Bruce's side, she wouldn't have a career. Kris said she would make sure of it. She's lost her mind!"
Article continues below advertisement
But with Kylie's drastic new makeover of recent weeks, said the source, it's clear where her loyalties now lie.
"She chose the Kardashian side and that's when she got a makeover and Kris gave her plastic surgery as a gift -- her lip job," said the source. "That is part of her glam makeover so she could start doing sexy photo shoots like the other girls."
But not everyone is Team Kris.
"Kim and Kourtney have taken Kris' side on everything," said the source. "But Khloe is the one who's not willing to choose sides. She was always very supportive of Bruce. And Bruce's sons Brody and Brandon never liked Kris anyway."
Are you Team Jenner or Team Kardashian? Let us know in the comments!