Hire Me! Kim Kardashian Is Hounding Amal Clooney For A Legal Job -- Even Though She's Not A Lawyer Or College Graduate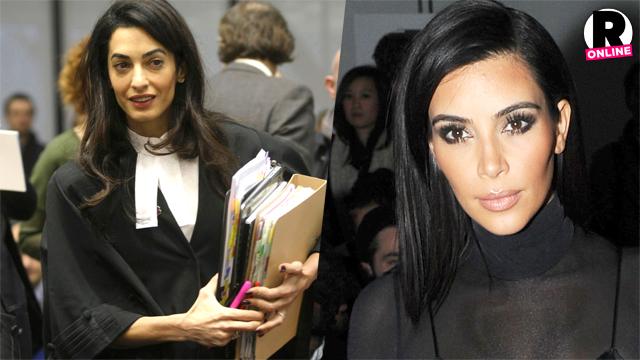 George Clooney's lawyer wife Amal has a newfound Hollywood headache: Kim Kardashian's calling, offering her services as a legal assistant!
The respected London attorney -- who married the debonair A-lister last September -- is dodging Kardashian's messages, while working on a landmark human rights case in which she's seeking to overturn the denial of the early 20th century Armenian genocide.
The 34-year-old reality TV queen has been outspoken about her Armenian heritage, recently announcing that she's making her first pilgrimage this spring to the ancestral homeland of her late father (and O.J. Simpson "dream team" attorney) Robert Kardashian.
Article continues below advertisement
"Kim has been telling friends that she has plans to do lots of humanitarian work this year," a source told The National ENQUIRER. "She wants to follow in the footsteps of Angelina Jolie," who famously transformed from a drug-using Hollywood wild child to a respected United Nations Humanitarian.
The goal-driven socialite "has been calling George's handlers, pleading for an introduction to Amal," and "also emailed Amal's London law office hoping to track her down," the source told The ENQUIRER. "Despite that Kim doesn't have a law degree -- or even a college degree -- she wants Amal to hire her as a consultant on the Armenia case."
Amal, however, recently endured several snide comparisons to Kardashian, with the Lebanon-born bride mocked for her glamorous fashion sense and a carefully-choreographed Italian wedding to her movie star husband.
"Kim is eager to smarten up her image: She's planning on visiting refugees from Syria when she goes to Armenia, and she's trying to convince Amal that teaming up is a win/win for both of them," the insider told The ENQUIRER.
For more exclusive details about how the Clooneys are handling Kim's advances -- including Amal's decision about employing the reality star -- pick up the latest issue of The National ENQUIRER on newsstands Wednesday.