Kim Kardashian Posts Sexy Blast-From-The-Past Snapshot On Instagram: 'Throwing Way The F**k Back'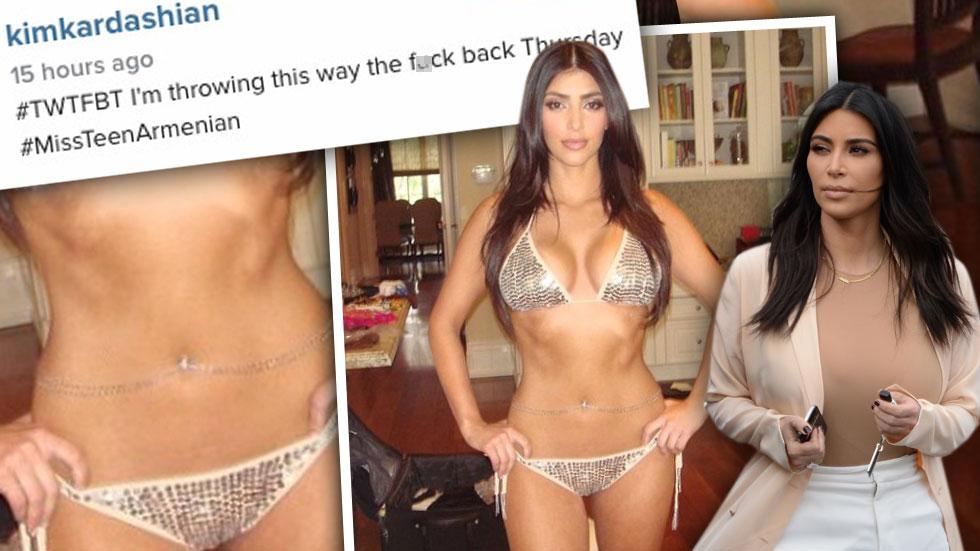 Before the world ogles over her latest nudes for Love magazine, Kim Kardashian gave fans a reminder of her more modest days, taking to Instagram to prove it.
In honor of #ThrowBackThursday, the reality star posted a swimsuit snapshot from her pre-selfie days.
In the photo, a young Kim stands in the center of a kitchen modeling a gold, sequined string bikini.
She captioned: "I'm throwing this way the f**k back Thursday," poking fun at how long ago the picture had been taken.
Article continues below advertisement
Her long, brunette locks are styled in straight layers. Kim chose to accessorize her beachy look with a silver body chain.
http://instagram.com/p/yvC4YGuSx8/?modal=true
The mother-of-one also added an interesting hashtag to her post – #MissTeenArmenian – harkening back to her Armenian roots.
Kim has been enjoying the tradition of Throwback Thursday on Instagram, recently sharing a snap of her slimmer days with sister Kourtney and paying homage to once-bestie Nicole Richie in an epic blast from the past photo.
Let's hope she keeps this weekly tradition going!