Natural Beauty? Khloe Kardashian Hiding Lip Injections From French Montana & Lamar Odom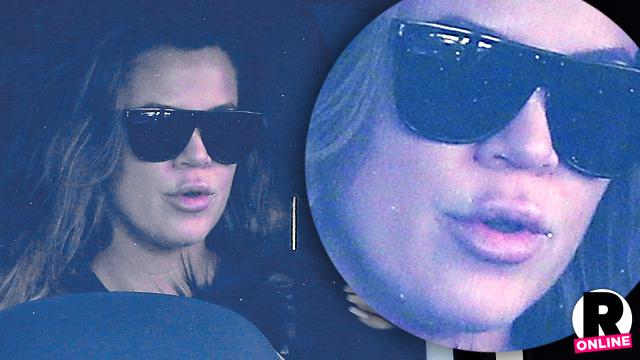 Khloe Kardashian has insisted she's never had plastic surgery — but is it lip service? The Keeping Up with the Kardashians star's pout looked suspiciously puffy after a trip to a medical spa on Tuesday afternoon. Kardashian took to Instagram to insist she'd only had a laser treatment done, but an insider tells RadarOnline.com that she kept her lip job a secret because she wants her lovers to think they're naturally pillowy!
Article continues below advertisement
"Khloe did have lip injections on Tuesday, and has been having the cosmetic procedure for years," an insider told Radar. "The reason Khloe just doesn't admit to it is because she doesn't want the men in her life estranged husband, Lamar Odom, and on-again/off-again boyfriend, rapper French Montana to know."
"Lamar has always told Khloe how much he loves her pouty look," the source said. "Emerging from the spa on Tuesday, Khloe was obviously covering her mouth for a reason."
Tuesday night, Kardashian posted a black and white selfie and claimed any changes to her face were because, "I got the greatest laser treatment today on my entire face! Excuse me if . Only negative is that my spray tan completely came off so I look like my head is placed on a really tan persons body! Lol only black-and-white selfie's for today! #WhiteGirlProblems."
The youngest Kardashian sister is in a love triangle with Odom and Montana.
The E! reality star hung out with her off-on boy toy Montana, 30, at the Feb. 12 Hot 97 concert in NYC. But later that night she and Odom both stayed at the Trump Hotel, in separate rooms.
"Khloe doesn't know what to do — she can't say no to either of them," the source said.
For Kardashian's next visit to the spa, "expect her to enter and exit at the back door!" the source joked. "She didn't think the photographers would still be there when she left. More than anything, she is just upset at being caught."