Exclusive
It's War! 'Infuriated' Khloe Kardashian 'Wants Face-To-Face' With Amber Rose After Twitter Feud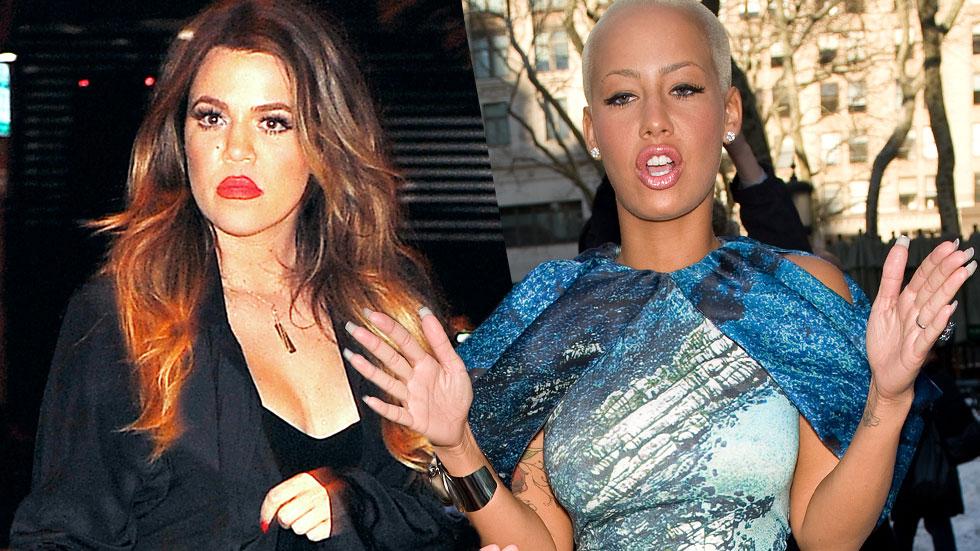 Even though the war of words between Khloe Kardashian and Amber Rose has stopped for now, a Keeping up with the Kardashians family insider reveals that the feud is far from over!
"Khloe would not stop and it took a sister intervention yesterday to put an end to the back and forth between her and Amber," the source tells RadarOnline.com exclusively. "She was so riled up about this that she really wants to have some face-to-face words with Amber."
Article continues below advertisement
The Twitter battle started Monday when the 31-year-old outspoken model slammed Kardashian's 17-year-old sister, Kylie Jenner, calling her a "baby" in reference to her alleged relationship with bad-boy rapper, Tyga.
Kardashian quickly struck back at Rose in a tweet that read, "I was a stripper since I was 15 years old," Amber Rose told Foxx. Please don't worry about my sister who has a career & her shit (1)."
As Radar previously reported, following Kardashian's stripper comment, things got nasty between the two dueling divas. Rose even created a meme featuring Kanye West that said, "When ur sister in law calls out ur ex for being a stripper. But ur wife has a sex tape."
The model, 37, who was engaged to West before he married Khloe's sister Kim Kardashian, 34, was, of course, speaking about Kim's infamous sex tape in 2007.
Article continues below advertisement
"Kim's sex video has almost been the pink elephant in the room for years, so when Amber threw that out, Khloe just went off."
Will the claws come out in person? Stay tuned!
Are you on Team Khloe Kardashian or Team Amber Rose? Let us know in the comments.