Here We Go Again! Kanye West Has Bizarre Meltdown On British Talk Show, Refuses To Speak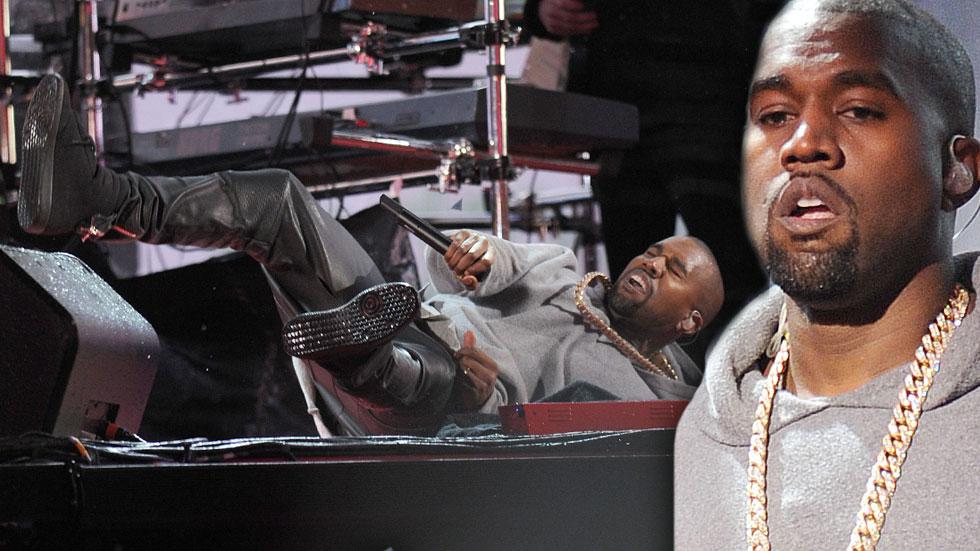 Kanye West had another incident, this time on Britain's The Jonathan Ross Show, where he refused to talk to the host, instead staying silent while laying on the floor.
In the appearance, which is slated to air Saturday, the enigmatic 37-year-old rapper performed his new single "Only One," at which point Ross approached him for a Q&A.
And that's where things got dicey, as the "Hold My Liquor" singer, without saying a word, laid down on the study floor.
Article continues below advertisement
An improvising Ross went to lay beside the unpredictable superstar, telling him, "If you want to spoon I don't mind -- it's not as big as Kim's, but it is all yours!"
West, at that point, stalked off the set, did not sit in the green room with the other show guests and did not pose for a customary picture with Ross.
A source told the U.K. Sun the situation "was all very odd.
"Kanye was only there to perform and not have a proper chat but he wouldn't even say two words to Jonathan -- it was very funny when Jonathan got on the ground and lay next to him."
The silent outburst came after another weird West outing with Radio 1's Zane Lowe, in which he was welled up with tears, talking about late fashion professor Louise Wilson, who he called the "greatest of all time."
Watch the video on RadarOnline.com
Perhaps the emotional ups-and-downs could be connected to his relationship with wife Kim Kardashian, as new reports state that the A-list couple's marriage could be on the rocks.