Exclusive
When A Daughters' Crime Costs: Jodi Arias' Parents File For Bankruptcy — $330,000 In Debt & ONLY $306 In Savings!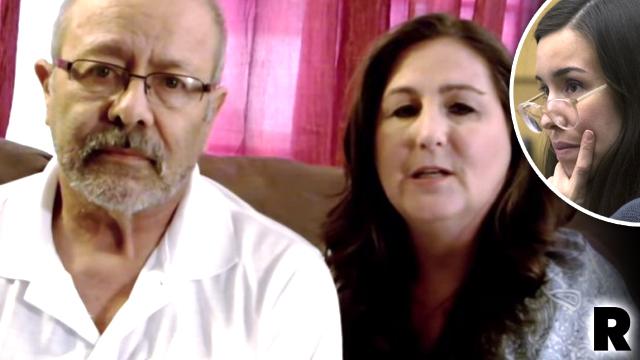 The parents of killer Jodi Arias are dead broke! According to a bankruptcy petition obtained exclusively by Radar, they have just $306 in cash and $330,000 in debts looming.
Arias, 34, insisted in a Twitter posting that rumors her family profited from her much-publicized murder case was absurd, and the Chapter 7 filing appears to support that.
Bill and Sandra Arias claim to own just $1,500 worth of household furnishings, including a BBQ grill, lawnmower, vacuum cleaner, and a VCR, the court document shows. The couple's clothing is valued at a mere $200, while their wedding rings are worth just $500, it says. Their three vehicles — two cars and a Harley Davidson motorcycle — total just $2,600, according to the petition.
Article continues below advertisement
They're seeking bankruptcy relief from a mountain of debt that includes nearly $35,000 owed on credit cards and thousands more in cell phone bills and medical expenses. They owe WalMart $224; JC Penny, $3,194.60; and Kohl's, $2,848.29. Bill still owes $66 for a Paint Zoom paint sprayer, and $714 for a Total Gym Fitness machine, court papers say.
The biggest debt is the $217,000 owed on loans taken on their Yreka, California, home, which they are trying to keep through the bankruptcy. The couple already lost their business when they closed the doors of their Daddy O's diner.
Even if they shed their huge debts, their financial future looks bleak. Sandra earned just $8,000 last year, while her husband collected about $15,000 from Social Security.
The couple appealed to their daughter's supporters for help in an online video last fall, begging for donations they said would go to overturning their daughter's conviction for the brutal murder of Travis Alexander. "We love our daughter," her mother says. "We support her and we stand behind her."
The retrial of the penalty phase of Jodi's case is nearing an end, and an Arizona jury will decide if she should be executed or allowed to live the rest of her life in prison.