Jodi Arias Refuses To Continue Testimony In Death Penalty Case — Claims, 'I'm Not Able To'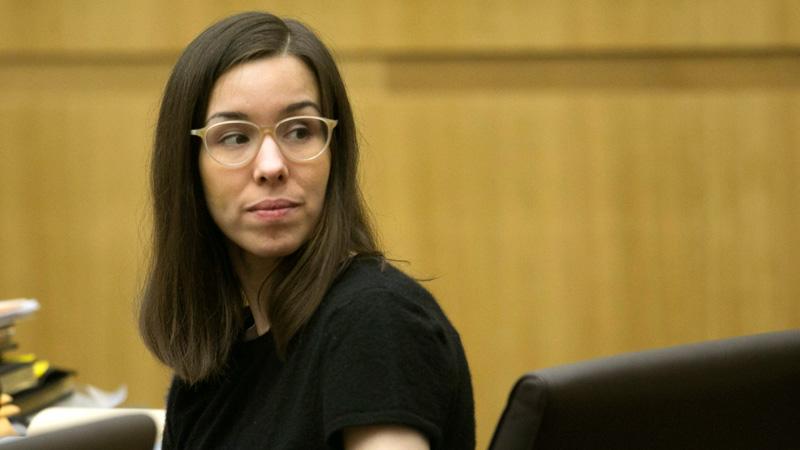 Jodi Arias has said her piece. RadarOnline.com has learned that the killer will not take the witness stand to resume the secret testimony she previously gave in her death penalty retrial.
Arias stood up in court to announce her dramatic decision Tuesday, telling the room, "I do want to complete it but I'm not able to."
Defense lawyers then rested their case, turning the trial over to prosecutors who will try to convince jurors that Arias, 34, should be put to death by the state of Arizona for the brutal murder of her boyfriend, Travis Alexander.
Article continues below advertisement
None of Arias' family testified on her behalf during the mitigation portion of the trial, which is intended to give jurors reasons that might mitigate her crime and justify a life prison sentence instead of death. The last defense witnesses were psychologists who testified about Arias' relationship with Alexander, suggesting he treated her like an unloved sex toy.
Arias did not expand on the reasons she's "not able to" complete her testimony, and the judge agreed to the defense's request not to tell the jury about her reasoning.
Prosecutor Juan Martinez said Tuesday that he would not ask the judge to strike her two days of secret testimony, although he never had a chance to cross examine her before an appeals court ruled it was illegal for the judge to close the court room during her testimony.
The prosecution immediately began presenting its case Tuesday afternoon, calling a man who briefly dated Arias after her break up with Alexander in 2006. Abe Abdelhadi described an intense 10-minute make out session with Arias during which they "got into it" and his hands wandered into her pants. The judge ordered Abdelhadi not to repeat a provocative comment he told lawyers that Arias said to him — that she had "magic" in her thong underwear.
He testified that Arias soon broke off their dating, saying she wanted to get back with Alexander, but she frequently called him to get advice on how to get Alexander to commit to her.
The prosecution then called former Alexander girlfriend Deanna Reid, who denied that Alexander every harmed her, saying a reported domestic violence incident never happened. Reid returns to the witness stand Wednesday afternoon.