Exclusive
Laptop Porn Defense Denied! Judge Rejects Jodi Arias' Request To Stop Death Penalty Trial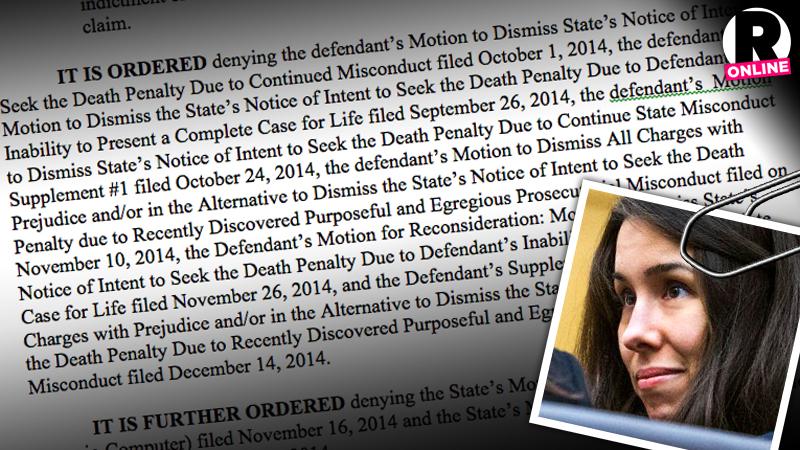 Jodi Arias' attempt to get the death penalty taken off the table as a possible punishment for murdering her boyfriend Travis Alexander has failed, with the court rejecting her lawyers' 17 reasons for dismissal.
RadarOnline.com can reveal that Judge Sherry Stephens issued a ruling late Wednesday denying the Arias motions on all points, clearing the way for the death penalty retrial to continue.
Article continues below advertisement
Her defense failed to prove there was "purposeful and egregious prosecutorial misconduct," the judge ruled. The arguments included the contention that investigators tampered with Alexander's laptop to hide evidence that he had surfed the web for porn.
"Prosecutorial misconduct sufficient to justify reversal must be so pronounced and persistent that it permeates the entire atmosphere of the trial," Judge Stephens wrote in her decision. It was not proven in this case, she ruled.
The possibility that the laptop had been mishandled or even purposefully tampered with caused delays in the trial, which the judge noted is now likely to stretch into February.
"The bottom line is that the judge did not find prosecutorial misconduct that rose to the level required for dismissal —intentional, prejudicial conduct by the State," lawyer Beth Karas, who is covering the trial for her website KarasOnCrime, tells Radar. "But the defense has been careful to create a complete record of all these matters for appeal."
Arias, 34, has yet to decide if she will take the stand in open court to complete the testimony she began in secret last October.
The transcript of that explosive testimony was released Tuesday, revealing that Arias answered "yes" when her own lawyer asked if she had killed Alexander.