Exclusive
It's War! Jenelle Evans Taking Her Mother Barbara To Court In Bid To Win Back Full Custody Of Jace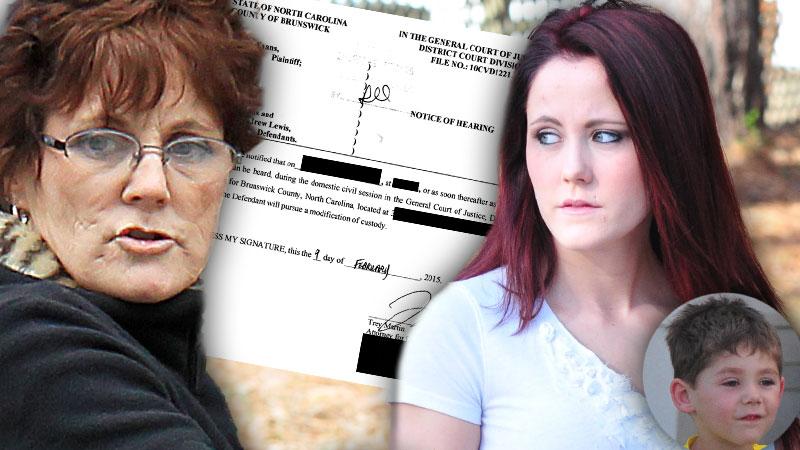 Article continues below advertisement
Evans confronted her mother over the situation, according to the source, who said that Barbara told her daughter that the boy "can call me whatever he wants," and warned her against "brainwashing him."
Barbara said that her grandson shouldn't be around Nathan because of his tendency to drink, according to the source, who insisted that neither Jenelle or Nathan have been partying since their engagement last month
They "only drank one time since they've been back," the source said, adding, "They're trying not to have any of those problems."
The source explained that Barbara is relying on the potentially false boozing suggestion as one of her excuses to continue "keeping Jace from Jenelle."
Now, the 23-year-old reality star has filed paperwork with the court seeking to regain full custody of her son.
Article continues below advertisement
"Barbara didn't take her seriously" at first, the friend told Radar, "but then when Barbara finally got served last week, she got mad."
Now, an angry Barbara is allegedly restricting her daughter's access to Jace even more.
"Barbara's excuses keep changing," the source said. "When Jenelle asked last week why she couldn't see Jace, Barbara said, 'Well, you're taking me to court, aren't you? Alright then, you aren't seeing Jace' -- then she hung up on Jenelle."
"She used to pick him up from school and he would sleep over, but that hasn't happened in a over a month."
The warring mother and daughter are scheduled to appear in court next month.