Exclusive
What Detox Diet? Gwyneth Paltrow Slammed By Skeptics For Decadent Hot Fudge Sundae Dessert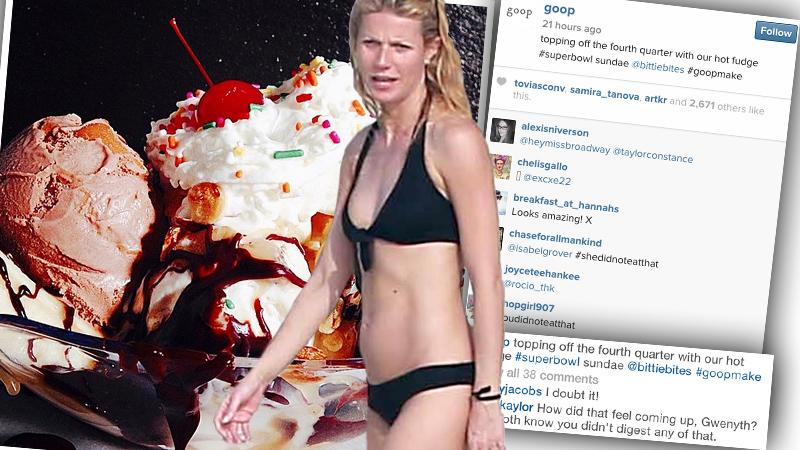 Gwyneth Paltrow was slammed after posting a decadent chocolate sundae on her GOOP Instagram account, with critics claiming she would never eat such junk food.
The ultra-thin A-lister usually swears by an extreme clean living diet – copping only to the occasional bite of cheese or bread – so when the lifestyle guru posted a picture of a hot fudge sundae on social media, critics lashed out at her sweet treat.
Article continues below advertisement
"How did that feel coming up, Gwyneth? We both know you didn't digest any of that," was the harshest of comments – and even thought it was deleted, RadarOnline.com captured a screen grab of the cruel words.
Paltrow touts January as her "Get Clean" month, saying her detox includes no "alcohol, caffeine, added sugar, gluten, dairy, soy, corn, and nightshades (white, blue, red, and yellow potatoes, tomatoes, eggplant)," but this dessert (posted on February 1) definitely broke all the rules, and her followers doubted the calorie-packed treat ever reached her lips.
Article continues below advertisement
Gwyneth Paltrow's Top 25 Most Outrageous & Out-Of-Touch Quotes
"You did not eat that," multiple people commented, as Paltrow's previous post for kale guacamole seemed more her culinary style.
"Is it all tofu?" one person asked and another posed the question: "Do you think gwennie ate any?" to which another person replied "Oh no way, it's all show."
But she was lauded for the effort to showcase a treat that someone who makes $25,000 a year could possible afford and enjoy, with one poster writing, "Glad to see some balance GOOP."
Readers, do you think about Paltrow would actually eat decadent dessert she touted? Sound off in comments below. ​