Excuses, Excuses: Giuliana Rancic Blames 'Fashion Police' Writers For Zendaya Coleman Comments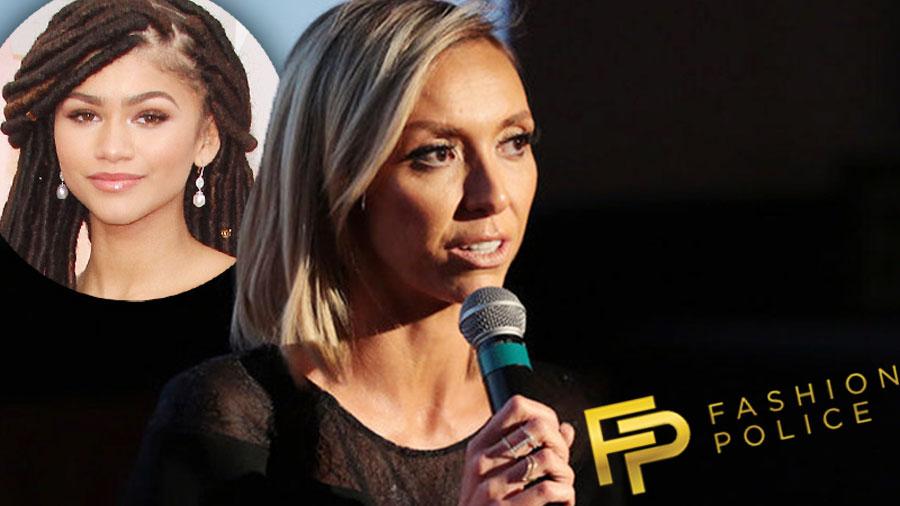 As the backlash against Giuliana Rancic grows, she has changed her story and thrown Fashion Police writers under the bus, claiming they penned the controversial "joke" that she made about Zendaya Coleman's dreadlocks.
Four days after the E! News host said the Disney darling's dreadlocks smelled like "patchouli" and "maybe weed," Access Hollywood's Billy Bush claiming that she wasn't the creator of the rude comments.
Article continues below advertisement
"Giuliana Rancic's comments about Zendaya's dreadlocks might have seemed off the cuff, but Access Hollywood has learned otherwise," the statement claimed.
"Billy Bush spoke directly to Giuliana Rancic this morning and has learned that her comments that the 18-year-old's dreadlocks looked like they smelled like 'patchouli' and 'maybe weed,' were penned by a Fashion Police show writer, and not something Giuliana came up with on her own."
"Billy also asked about reports of Kelly Osbourne stopping the segment and telling her Fashion Police colleagues they can't make comments like that about Zendaya. According to Giuliana, none of this is true. What she said actually happened is that Kathy Griffin spoke up and asked 'Who is Zendaya?' to which Kelly responded, wait a minute, let's not act like we don't know her. She's been a guest host on the show a couple of times."
Article continues below advertisement
According to the Access Hollywood statement, Rancic claims that the timing of the Oscars and her show taping required other professionals to give her jokes to deliver.
"Fashion Police is a comedy show, and because there was such a fast turn-around time between Oscar night and taping that show Monday morning, they had to have a few things planted, according to Giuliana," the statement said. "A writer wrote the line that got Giuliana in trouble. Nobody saw it as racist. The original joke was patchouli, and there was a follow-up joke that never made it to air. It said 'I heard she's going on tour with the Grateful Dead,' alluding that the joke was referring to hippie culture."
But will Rancic's detractors buy it?
"There is a fine line between what is funny and disrespectful," Coleman said in her original note to Rancic. "Someone said something about my hair at the Oscars that left me in awe. Not because I was relishing in rave outfit reviews, but because I was hit with ignorant slurs and pure disrespect."
"To say that an 18-year-old woman with locs must smell of patchouli oil or 'weed' is not only a large stereotype but outrageously offensive," she continued. "I don't usually feel the need to respond to negative things but certain remarks cannot go unchecked."
She later said she accepted Rancic's apologies.
What do you think about Rancic's excuse that she didn't write the racist joke? Sound off in comments below.
​