Exclusive
Staying Out Of It! Kathy Griffin 'Not Taking Sides' In Giuliana Rancic Dreadlock Drama -- 'Thinks It Has Gone Too Far'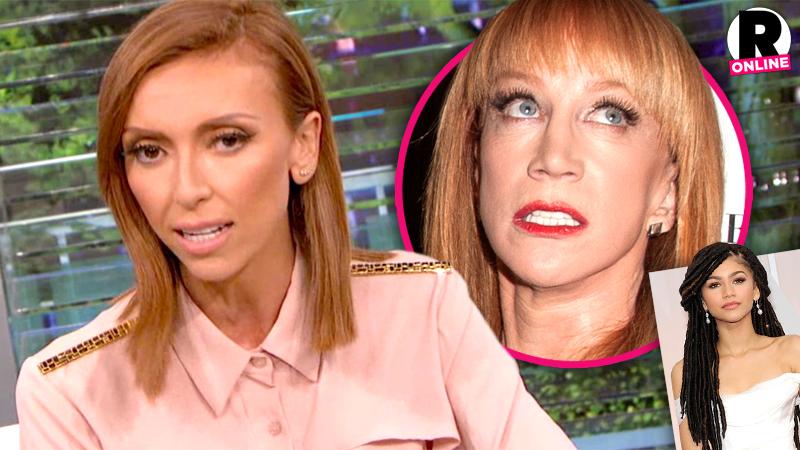 Normally tart-tongued Kathy Griffin has been suspiciously quiet while her Fashion Police co-star Giuliana Rancic weathers the storm over her recent controversial comments. But according to a source close to Griffin, the red-headed comedienne "thinks that this whole thing has gone way too far" — and won't be speaking out in support any time soon.
"Kathy knows what Giuliana said was wrong, but she's made some serious mistakes in her day too," the friend tells RadarOnline.com exclusively. "She thinks that these sort of things are bound to happen when you are trying to make people laugh."
Article continues below advertisement
For the past several days, Rancic, 40 and 18-year-old Zendaya Coleman have been engaged in a war of words regarding Rancic's commentary about her dreadlocks on the red carpet at the Oscars. Rancic infamously said, "I feel like she smells like patchouli oil," and a moment later adding, "Maybe weed."
However, as RadarOnline.com previously reported, many of the show's fans believe that Griffin, 54, is responsible for the entire situation after she allegedly was the one who said the word "weed" off-camera prior to Rancic spewing the venomous comment.
Co-host Kelly Osbourne, 30, on her Twitter on Tuesday over the brouhaha, but did not throw Griffin under the bus.
Meanwhile, "Kathy is just playing Canada on this one. She is staying neutral because she loves being a host on Fashion Police and she has gotten great response lately to her performance."
Do you think that Kathy Griffin is responsible for Giuliana Rancic's extreme backlash? Let us know in the comments below.