Warlock To The Rescue! Charlie Sheen Defends Brian Williams, Slams 'Vile' NBC Honchos In Bizarre Twitter Rant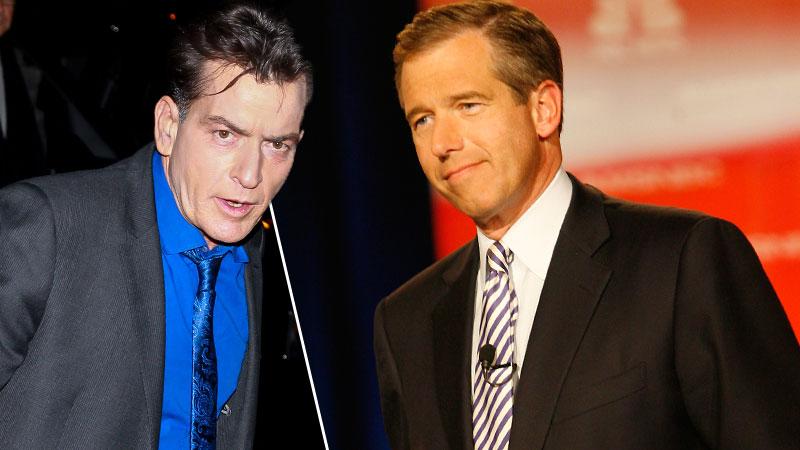 NBC News dropped the hammer on Brian Williams this week, but the beleaguered anchor has an unlikely ally in his corner — Charlie Sheen! The Anger Management star went off on top brass at the network over what he called a "vile" "witch hunt" on Wednesday, and RadarOnline.com has all the details.
"Dear Mr. Williams, Sorry to bother you during this most surreal, unjust and mercurial moment in your awesome life," Sheen tweeted Wednesday night.
Article continues below advertisement
"Secondly, Thank you 'squared' for delivering not only the news on a nightly basis, (PERFECTLY) to myself and my family. But for every other person alive, (with a TV) who relied and still do, on your poetic, insightful and NOBLE sacrifices, that made our longest nights shorter, and our shortest nights safer. You good sir, are a hero in my 'Entire Library.'"
Turning his attention to NBC, who announced Williams would be taking a six-month leave of absence with no pay, Sheen was less complimentary.
"You are clearly the victim of a transparent and vile witch hunt!" he wrote. "Erroneously 'staged' by hooligans, non coms, cowards and oligarchs, who's sic only desperate and hideous goal is to discredit the genius that they relied on for almost 3 decades!"
"Now and forever you are a true Patriot and a Hero of mine until the day i leave this star crossed imperfect Rock we call Earth…" Sheen insisted, concluding, "Mr W: respect love hi 5's and refuge! (if you need it!) I remain humbly and on dangerous standby at your service…."
As RadarOnline.com reported, insiders claim some NBC Nightly News staffers believe Williams should be canned permanently for his recent admission that he lied about coming under enemy fire in the Iraq War in 2003.
Do you agree with Sheen or Williams' detractors? Let us know in the comments!