'Please Continue To Pray For Her As She Fights For Her Life,' Kelly Price Says Of Bobbi Kristina At Whitney Houston Memorial Pre-Grammy Tribute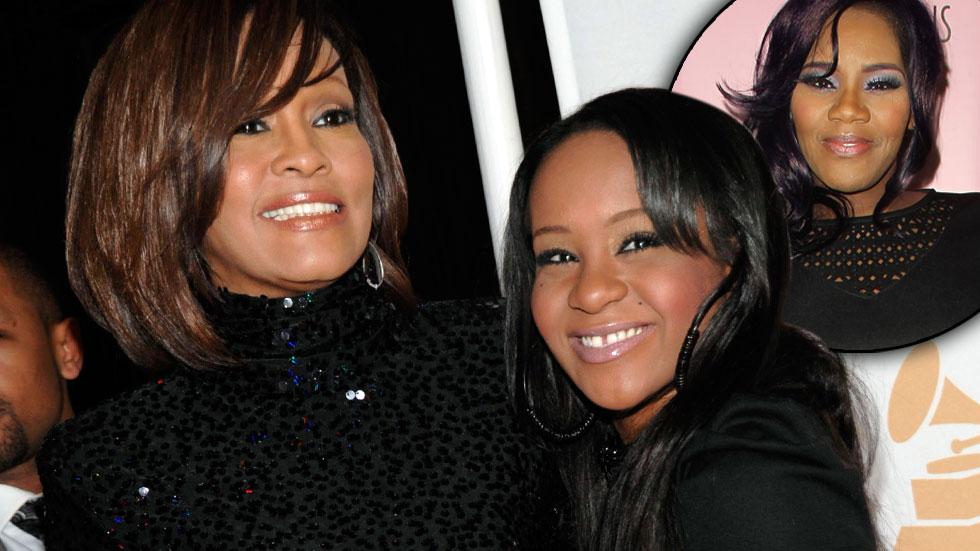 A somber mood dominated a pre-Grammy party in Whitney Houston's memory Wednesday, as partygoers were encouraged to pray for the late star's daughter Bobbi Kristina Brown.
Houston's longtime friend Kelly Price opened the Hollywood-based event, "For the Love of R&B: A Tribute to Whitney Houston" with a poignant reminder of the tragedy surrounding the 21-year-old, who remains battling for her life, in critical condition on a ventilator at Emory University Hospital in Atlanta.
Article continues below advertisement
"Bobbi Kristina is in the hospital and her condition is very serious," Price said. "I will say this one thing and this one thing only: Please continue to pray for her as she fights for her life."
Price -- who famously sang a duet with Houston of "Heartbreak Hotel," days before the music legend's Feb. 11, 2012 death -- called Bobbi Kristina "a young woman who deserves a chance to live and to thrive and experience the greatness that is inside of her and come into her own.
"I will ask you all to say a prayer; if prayer is not your thing, send love. Send your love and well wishes to the entire family."
Watch the video on RadarOnline.com
Visit NBCNews.com for breaking news, world news, and news about the economy
Price, who later teamed up with Faith Evans to sing "Heartbreak Hotel," also urged partygoers to "speak well of Whitney Houston," as "she deserves that from us.
"Keep her family in your prayers. Keep Bobbi Kristina in your prayers, if anyone can do it, God can."
Article continues below advertisement
Price, who has been in touch with Bobbi Kristina's family, told US Weekly at the event that she wouldn't delve into specifics about the young woman's condition, preferring to spread positive vibes.
"As much as I can say, absolutely by their request, is that we want everybody to continue to pray," she told Us. "Bobbi Kris is fighting for her life. I dare not say much more than that, but I do ask for people to pray, to respect their privacy and to remember that this is a young woman who lost her mother at 18 years old."
She added that Bobbi Kristina "was never given the opportunity to properly mourn her because there was always a camera in her face."
As RadarOnline.com previously reported, Bobbi Kristina's downturn in health, after she was found face-down in a bathtub Jan. 31, comes nearly three years after her mother's death at 48, in which she was also found in a bathtub, at the Beverly Hilton Hotel.