'I've Lost The Ability To Read, Write, Or Even Watch TV': Yolanda Foster Struggling In Lyme Disease Battle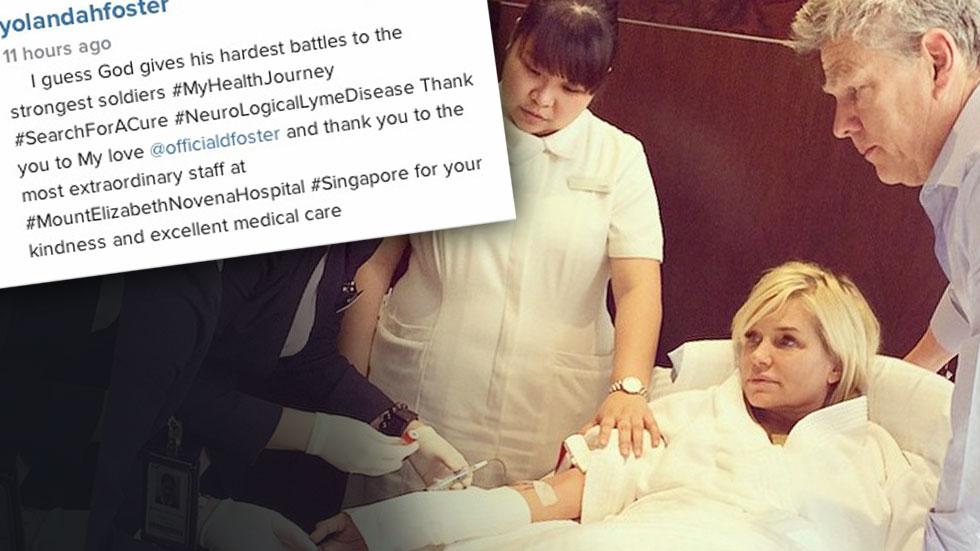 Real Housewives of Beverly Hills star Yolanda Foster said she's "lost the ability to read, write, or even watch TV" in her ongoing battle with Lyme disease.
The 51-year-old, who has emerged as one of the most genuine and likable characters on reality TV, said in a new Bravo blog that she's unable to do such things "because she can't process information or any stimulation for that matter.
"It feels like someone came in and confiscated my brain and tied my hands behind my back to just watch and see life go by without me participating in it."
Article continues below advertisement
Over the weekend, the Dutch beauty, who once worked as a model, posted an image to Instagram of her receiving medical treatment at Singapore's Mount Elizabeth Novena Hospital, thanking her husband David and the hospital staffers.
Foster, offering apologies for her lack of blogging in recent times, said she's also "lost the ability to do so in an intelligent matter" in her three-year battle with Lyme, which she explained as an "infection in the brain that can leave one with severe brain impairment and neurological issues."
She said that she has "not been able to find her way back" after an early December relapse. Foster said she's "made it her life mission" to see that strides are made in the way of proper diagnostic testing, vaccination and a cure.
Foster, a noted philanthropist, added that despite her exhaustion from battling the ailment, she has an "undeniable spirit that will continue to fight and travel the world until she has the proper answers.
Article continues below advertisement
"I have an I keep reminding myself that I was given this task for a greater purpose, which keeps me driven and motivated to think outside the box to make a difference not only for myself but for all my fellow Lymies suffering some form of this debilitating disease that we know so little about," she wrote. "A lot of great medicines and ancient therapies are blocked by the FDA, so that's why I choose to travel and recognize the value of diverse points of view in medicine."
She said she's "a firm believer that God often uses our deepest pain as the launching pad of our greatest calling," and is faithful she will help find a cure.
Last month, an insider told RadarOnline.com exclusively that "the problem with Yolanda's diagnosis of Lyme disease was that it was so advanced by the time she was finally diagnosed."