Exclusive
Rival Lawyer Quits Over 'Certain Issues' In Vicki Gunvalson Vodka Lawsuit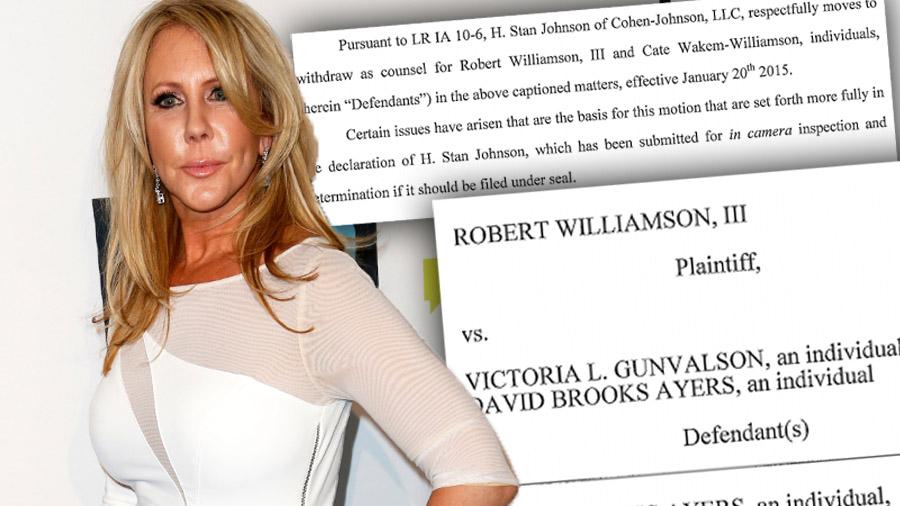 Robert Williamson III's chances of beating Real Housewives of Orange County star Vicki Gunvalson and David Ayers in their legal fight over a failed vodka venture appear fading as his lawyer wants to quit the case, RadarOnline.com has exclusively learned.
Attorney H. Stan Johnson told the judge that "certain issues have arisen" to force his request to withdraw as Williamson's counsel and those reasons are so sensitive he filed his sworn statement in secret.
Article continues below advertisement
The case was already going downhill for Williamson, who missed the deadline to file a response to summary judgment motion to toss the lawsuit from court filed by both Gunvalson and Ayers.
Williamson and Gunvalson had joined together in a deal to develop and market a vodka branded with her famous name but the legal battles began when Williamson sued Gunvalson for breach of contract claiming she allegedly failed to promote the Vicki's Vodka brand.
Ayers is also countersuing Williamson's former mistress for defamation over a series of text messages she sent — allegedly at Williamson's urging — to Gunvalson accusing her boyfriend of stealing money from the vodka venture.