Exclusive
Stupid Mistake? Mistress Says Brooks Ayers' Defamation Suit Should Be Dismissed Over 'Painfully Obvious' Error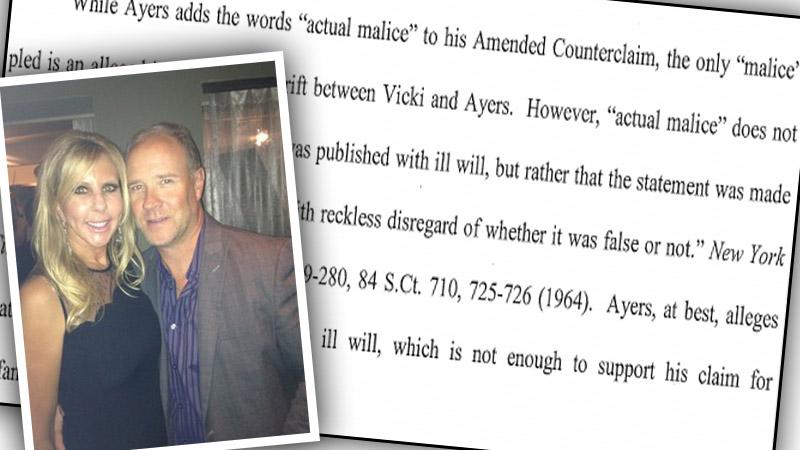 Brooks Ayers has made a lot of mistakes in his life, but a "painfully obvious" oversight could cost him an entire lawsuit. RadarOnline.com has learned that the nasty legal battle between Ayers and the former mistress of Vicki Gunvalson's ex-business partner hinges on whether a judge will give Ayers another chance at rewriting his defamation claim — because he messed up the first one.
The fight centers over text messages that Angela Torres, the former mistress of Gunvalson's Vicki's Vodka partner Robert Williamson III, sent to Gunvalson in May 2013 claiming the Real Housewives of Orange County star's boyfriend, Ayers, was an extortionist who stole money from their vodka company.
Article continues below advertisement
Ayers, who prepared his court filing without a lawyer's help, made a technical mistake that caused a judge to toss it out of court in October, but the judge said he might consider allowing him to fix it and refile.
In a court filing this week, Torres' lawyer said Ayers' mistake was "painfully obvious" and that Ayers and the lawyer he later hired to help him should have known it needed to be fixed before a deadline passed.
"Ayers has not demonstrated good cause for his delay of more than a year in requesting amendment of his pleading," Torres' filing argues.
Torres repeated statements she previously made in her defense claiming that the messages were not defamation, but just gossip — or "rhetorical hyperbole" in legal language — that did not damage Ayers or his relationship with Gunvalson.
Gunvalson had heard the allegations about her boyfriend already and "seriously doubted" them, which means no harm was done, the Torres filing argues.
Article continues below advertisement
"Vicki ultimately believed the statements to be gossip before any text message may have been sent by Torres," the filing claims. "Unless Vicki's opinions of Ayers were lowered as a result of Torres' statements, those statements are not defamatory."
Just as Torres did in an October court filing, she slammed Gunvalson's "unquestionably tumultuous" relationship with Ayers, saying her text messages were not the problem with the couple.
"Allegations of lies, cheating, and more have been frequent between Vicki and Ayers and the two have broken up, made up, and broken up time and time again," her filing said. "There was significant damage existing in their relationship and Ayers had already severely tarnished whatever reputation for honesty and truthfulness he had in Vicki's eyes well before Torres' alleged statements."
Another part of Torres' defense is her argument that she did not have "actual malice" against Ayers, which is an "essential element" of a defamation complaint.
"Torres believed that what she told Vicki was true — that Ayers had taken money that Williamson intended for her," the document said. "Because the facts pled by Ayers demonstrate that Torres believed in the truth of her statements to Vicki, actual malice is absent."