Exclusive
Jailhouse Lawsuit: Child Porn Felon Claims Taylor Swift Stole His Life Story For '1989' Lyrics, Declares 'My Heart Hurts!'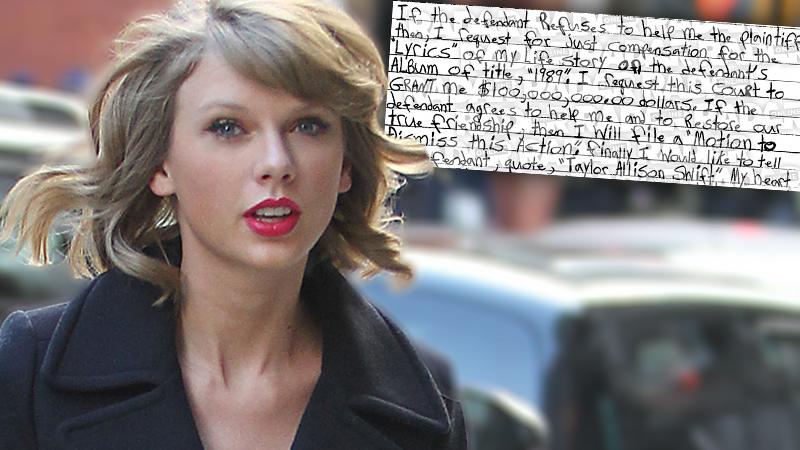 A convicted child pornographer is refusing to "shake it off!" According to court documents exclusively obtained by RadarOnline.com, felon Jose Hilario is demanding $100 million from pop diva Taylor Swift who he accuses of using his life story as lyrics in her smash album "1989."
"My heart hurts," Hilario — aka federal inmate 05994-070 — writes in his handwritten lawsuit. "I have suffered so much humiliation already."
Article continues below advertisement
Read the documents on RadarOnline.com
The federal lawsuit tells the hard-to-believe story of how Swift, who had just turned 18, allegedly emailed Hilario, 35, in January 2008 and begged him to meet her online via Skype because "she was lonely and sad and that she needed someone to chat with."
While Hilario says it found Swift's approach "very strange," he did give the singer a chance and "for about over two months we chatted and had a good friendship."
Swift eventually wanted to make the relationship more tangible, so they met face to face meeting at a Rhode Island mall on April 13, 2008, Hilario claims.
"They hugged and kissed each other," his lawsuit says.
The singer-songwriter promised Hilario "she would help him with his legal problems and that she would write and sing songs about him," the suit contends. "But the defendant did not keep her promise of giving legal help."
Article continues below advertisement
FBI agents arrested him days later for possession of illegal images of a "minor engaging in sexually explicit conduct," according to a federal indictment obtained by Radar.
He entered a guilty plea on child pornography charges a few months later and is serving a federal prison sentence that will end in May 2019, according to court records obtained by Radar.
Hilario was doing time at the federal prison in Oakdale, Louisiana, when he "discovered that her new album titled '1989'" is "about the life of the plaintiff," the complaint says.
Swift should now help get him out of his "deep trouble" by financing his "legal causes," he argues.
"I know for a fact that the defendant have a good heart and that she will come back to her senses and not forget her promise that she made to me."
As a reminder of what they once had, Hilario includes this quote of what he says he told her that romantic afternoon at the mall: "When you feel like you are trapped with no way out and your memory of me fades… think of the color yellow and remember your friend who will protect you from all the unknowns of this world."
Hilario says he will drop the lawsuit if Swift would just agree "to help me and restore our true friendship."
Not content with his legal posturing, he's also asking that Swift introduce him to Miley Cyrus!