'Listen B*tch!' Meredith Vieira Calls Bethenny Frankel Out For Lying About 'RHONY' Return, Discusses 'Too Thin' Rumors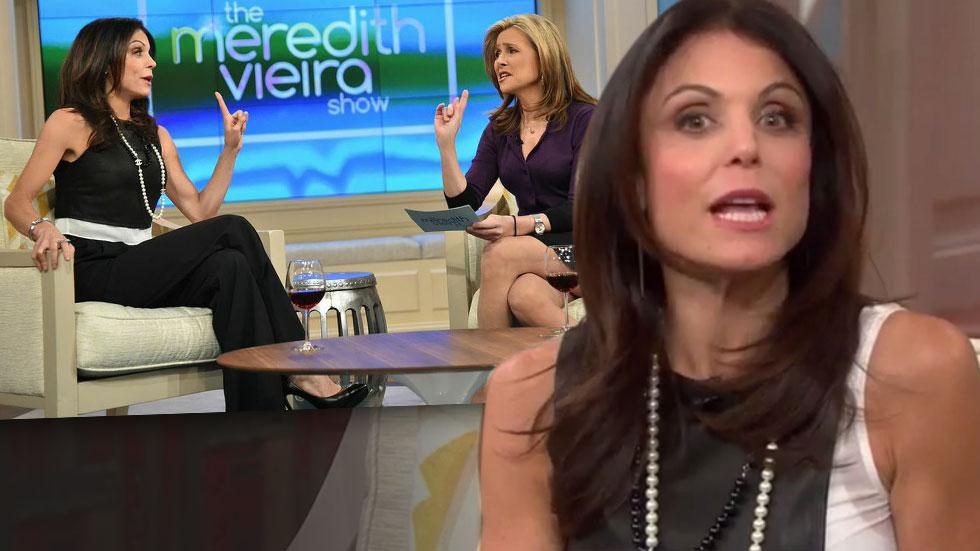 Bethenny Frankel gets real about the rumors!
On Tuesday's all-new segment of the Meredith Vieira Show, the reality star opened about criticisms regarding her thin frame – but not before Meredith Vieira had her say!
The TV mogul made sure to remind the Bravolebrity that she hadn't been totally honest on her last visit to the show. In October 2014, Frankel told Vieira flat-out that she had "no deal" for a return to the Bravo show Real Housewives of New York City.
Article continues below advertisement
MORE: Meredith Vieira Shares Tragic Domestic Violence Memories
Two weeks later, however, the reality queen announced she'd be back for more housewife drama.
"Why would you lie to me?" Vieira quipped with a laugh. "Or as they say on the Housewives, Why would you lie to me bitch?"
"Listen, bitch," Frankel jested back. "Did I say I have no deal to go back on Bravo, did I say that? I was not lying. No, this is truth. I had no deal to go back on Bravo and you know, Meredith Vieira, with your own talk show, that if you don't have a deal and it's not signed the deal can fall through at any time."
Watch the Video on RadarOnline:
Of course, it wasn't all fun and games during their interview. Later, Frankel took the opportunity to address the rumors surrounding her slim figure.
After photos surfaced of the reality star looking thinner than usual in a bikini, some fans sounded the alarm, calling the Skinnygirl founder "too skinny" and "unhealthy."
But Frankel wouldn't have any of that nonsense. "I was sick over the holidays," she shared with Vieira. "I don't know, do I look bad? Do I look like I need to eat a burger?"
MORE: Bethenny Frankel To Be Deposed Again In Skinnygirl Lawsuit
The star added, "I don't know. I feel like, 'Who cares?' They are always going to say something. I do have a brand called Skinnygirl, so I am going to get beaten up for it. It would be bad if I were overweight and had a brand called Skinnygirl, could you imagine?"
Either way, Frankel's return to RHONY is sure to stir up some drama!
Do you think Bethenny Frankel is too thin? Sound off in the comments below.