Exclusive
Leah Messer Faces Fan Backlash For Pushing Controversial Pipeline Expansion: 'That's BS!'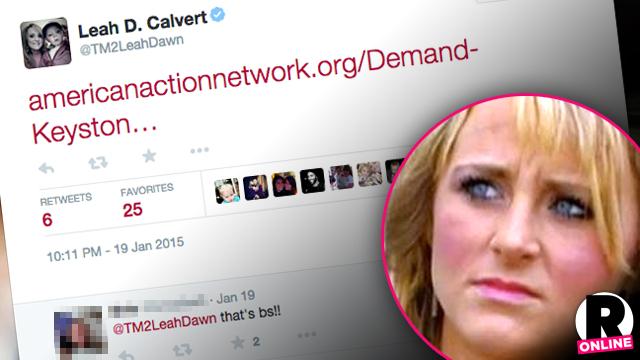 Maybe Leah Messer should stick to posting funny memes and photos of her three kids.
On January 20, the Teen Mom 2 star, 22, tweeted a link to an American Action Network petition urging President Barack Obama to pass the Keystone XL Pipeline, an extension of a pipeline transporting crude oil from Alberta, Canada to Cushing, Oklahoma.
"The Keystone XL Pipeline will create thousands of good paying jobs— right here in America," the petition states.
Article continues below advertisement
But what Messer failed to note— and maybe did not realize— is that many lawmakers are concerned about the environmental impact the extension would have on the surrounding land, 1,179 miles passing through Montana, South Dakota and Nebraska.
During his State of the Union address last night, President Obama stated that Americans should focus on climate protection, not "a single oil pipeline."
Certain Native American tribes are also protesting the expansion, claiming they don't want the pipeline to ravage land and water they believe is sacred.
"The US government doesn't have our best interest in mind, nor the rights of Mother Earth" Lakota grassroots leader Deb White Plume said during a 2011 protest. "We have thousands of ancient and historical cultural resources that would be destroyed across our treaty lands."
Messer's followers seemed disgusted by her stance on the controversial issue.
"Just so someone can get a paycheck, let's destroy land? NO!" said one.
"That area is protected against big companies for damn good reason," argued another.
Should Teen Mom stars stay out of politics? Sound off in the comments.