Exclusive
Sweatshop Scandal: Kylie Jenner's Hair Extension Line Linked To Factory With Appalling Conditions -- Watch The Video Proof!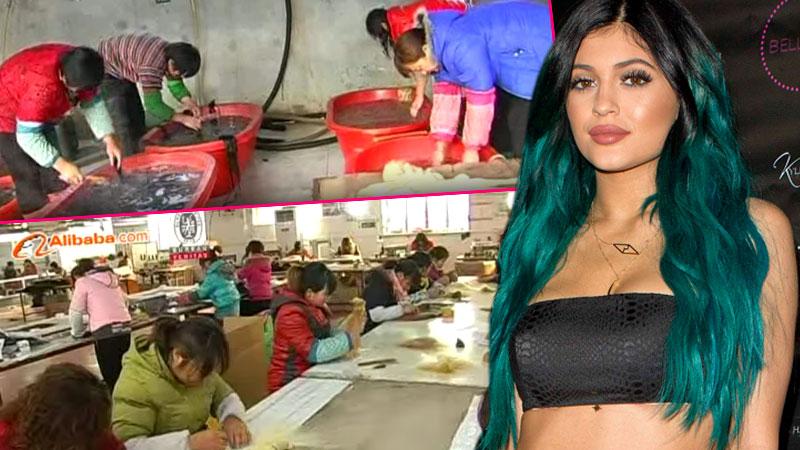 Kylie Jenner may look glamorous in her new Kylie Hair Kouture by Bellami extensions, but her locks' origins are likely not so luxe.
According to Chinese e-commerce site Alibaba, certain Bellami hair products, possibility including the 17-year-old reality star's signature teal ombre clip-ins, are produced at the Yang Xin Leshine Hair Products factory in China's Shandong province.
While he hasn't investigated the specific factory, "this sector is notorious for using convict labor and offering poor labor conditions," Nicholas Bequelin, Senior researcher at the Human Rights Watch's Asia division, tells RadarOnline.com.
Article continues below advertisement
The company, founded in 2012, has uploaded a video of everyday life in the factory.
In the shocking clip, a man churns hot coals in a fiery furnace while three women bundled in winter coats hunch over a sewing machine.
Workers crouch over steaming hot vats, brushing out loose locks of hair, while others stand or squat on metal stools inspecting products.
"Client satisfaction is our top aim," the spokesperson assures.
Kevin Slaten, program coordinator of China Labor Watch, says while his organization has not investigated the factory, similar locations, including textile and toy factories, encourage employees to work 13 hour days, six or seven days a week.
"There's usually a tremendous amount of overtime because wages are so low," Slaten tells Radar. "There is often child or student labor, and safety issues due to lack of training."
Article continues below advertisement
Employees are often migrant workers forced to relocate from far away provinces, living in dormitories with 10-12 other people in a single room under poor conditions.
"Young mothers have no choice but to leave their children at home with grandparent or other relatives," Slaten claims.
Kylie isn't the only Kardashian/Jenner family member to be caught up in a potential sweatshop scandal. In 2011, Star discovered that several brands sold and endorsed by the reality krew were manufactured in China under poor conditions.
Would you buy Kylie's hair extensions? Sound off in the comments and watch the video below.