Ganging Up! Kim Kardashian Fights With Sisters Kourtney & Khloe Over Clothing Makeover, They Say She's 'More Vapid' Than Ever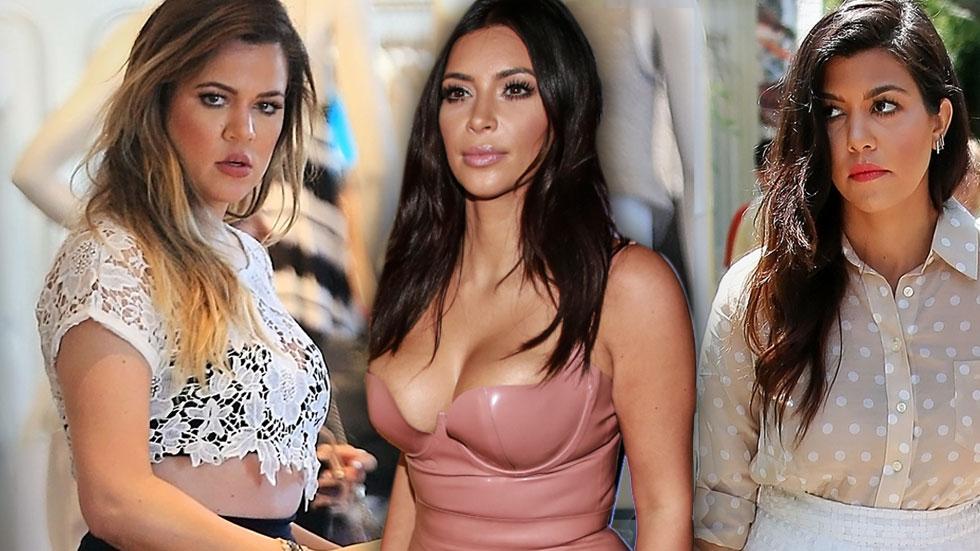 Kourtney and Khloe Kardashian are ganging up on their sister Kim and RadarOnline.com has exclusively learned that they're "absolutely sick of her constant chatter about clothes," and have even said that she's "more vapid" than ever.
The 33-year-old Keeping Up With the Kardashians star has undergone a complete makeover by her rapper husband Kanye West, and while she loves the results, her family thinks she's "boring," now.
Article continues below advertisement
"Kourt and Khloe are absolutely sick of Kim's constant chatter about clothes," a source close to the reality star told Radar.
"They've always made fun of her for being shallow but they now say she really never, ever talks about anything other than fashion. They are tired of hearing about what color she is wearing and what her outfit looks like."
Kim's siblings are growing weary of the constant fashion fodder, and the source said they're exasperated with her.
"Kourt and Khloe think Kim is even more vapid than before!"
The two have never been afraid to mock Kim, even directly to her face, but the source told Radar, "Her sisters think her obsession has made her boring. They can't have a real conversation with her at all anymore."
Kourtney and Khloe have also started to worry about Kim's daughter, North West.
"They are telling people that Kim talks constantly about clothes and what outfits Nori is going to wear and they worry that all the little girl will care about are her looks. As a mom Kourtney has been very careful to give her children a normal upbringing."