'We Trying!': Kanye West Says He & Kim Kardashian Are Working On Having More Children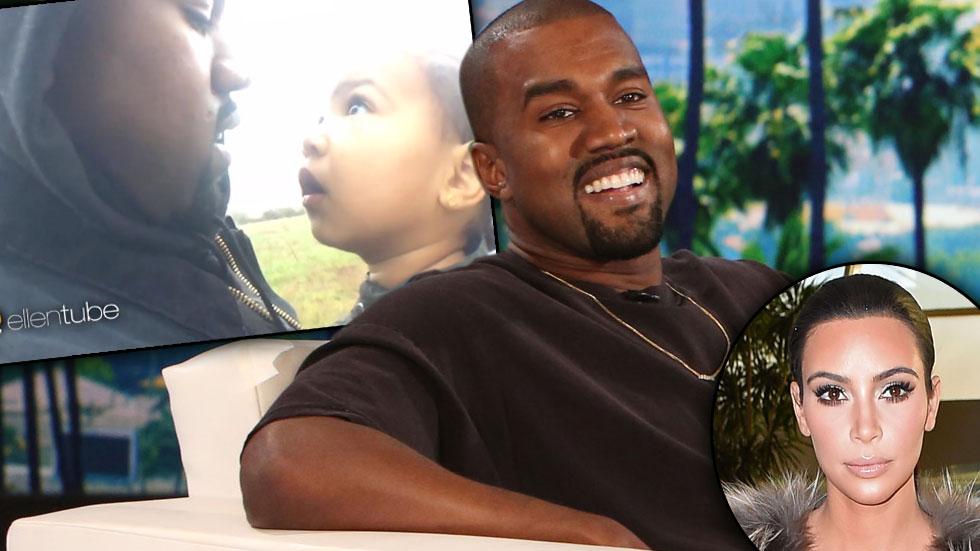 Kanye West, on Thursday's Ellen, says he and wife Kim Kardashian are "trying" to have more kids, and explained how being a married man has changed him for the better.
Host Ellen DeGeneres prompted the "On Sight" rapper into gushing about his daughter, telling him, "I mean that baby is so adorable and she is precious and smart as can be ... so you're gonna have more? How many do you want like a bunch -- like a Brad and Angie bunch?
Article continues below advertisement
"I just want whatever Kim wants," the Grammy-winner told DeGeneres. (Kim has flip-flopped on the issue, at times seeming full steam ahead in giving daughter North a sibling, at other times, seeming to value keeping her figure intact after putting on 60 pounds during her pregnancy with the now-toddler.)
With Kardashian's changing moods, West told Ellen he's "definitely learned how to compromise more" -- and "how to shut up more" -- in his marriage with the socialite.
West -- infamous at one time for his unpredictable behavior, highlighted by the VMAs incident with Taylor Swift -- said he feels he's turned into "a better human being because of her, and because of my daughter.
"I have always someone to think about going home to and you know, something for me to be brave for what I want to do for humanity, but also to be more protective of myself for my family too."
Article continues below advertisement
DeGeneres said how she picked up on how he's mellowed, telling West, "You don't seem like angry or you know what I mean?
"And I don't know if it was even anger, but it was just a way that you were getting all of your emotions out," she said. "And now I think your emotions are grounded in a way that they come out in protection and love, and they're channeled in a different way."
West, in another nod to his fatherhood, said he was going through his "version of his terrible twos.
"My daughter she wants to express herself and she just doesn't have the words for it," he said. "And for me there was so many things I wanted to do with film and clothing and I just didn't have the words or the resources or the backing or the perception that I could do it being that I was a rapper."
The beaming dad also used the appearance to debut a part of the video for his single "Only One," a collaboration with Paul McCartney he previously said his late mother Donda helped him write as he sang to North.
Watch the video on RadarOnline.com