Gwyneth Tells All! Brad Pitt Was 'Too Good For' Her, Ben Affleck 'Not In A Good Place' PLUS The Truth About Her Divorce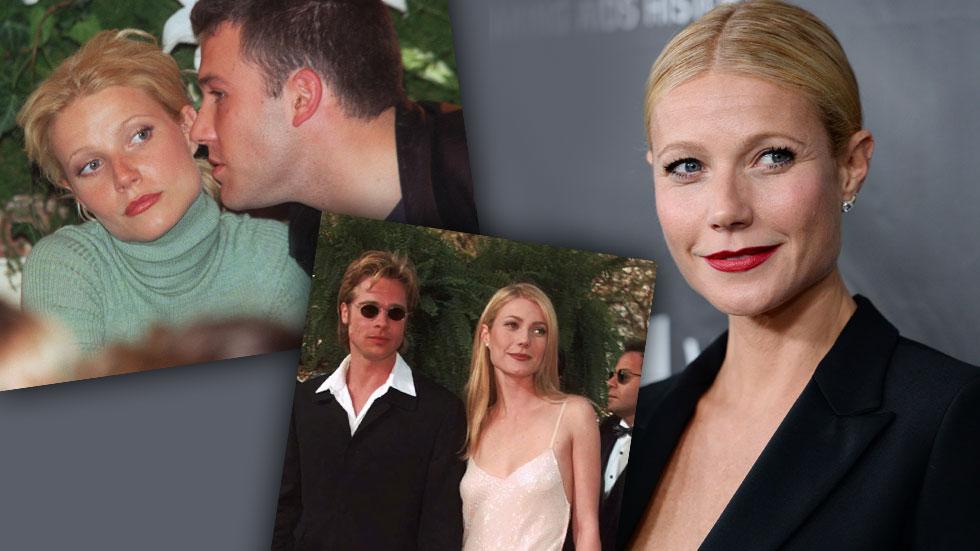 From Brad Pitt to Ben Affleck, Gwyneth Paltrow finally opens up about her past relationships with Hollywood's hottest hunks!
The Mortdecai actress opened up about her star-studded dating history on Howard Stern's SiriusXM radio show on Wednesday, Jan. 14, and reflected on what went wrong with Pitt andAffleck.
Paltrow remembers her engagement to Brad Pitt fondly. "I definitely fell in love with him," she recalled of the Fury actor. "He was so gorgeous and sweet. I mean, he was Brad Pitt!"
Article continues below advertisement
Paltrow – now 42 – was in her early twenties at the time, and blames the breakup on her immaturity.
"I was such a kid, I was 22 when we met. It's taken me until 40 to get my head out of my ass. You can't make that decision when you're 22 years old... I wasn't ready, and he was too good for me." To sum it up, she said: "I didn't know what I was doing."
Luckily, the two stars have no ill will towards one another. "If I see him, we're friendly," Paltrow told Stern. "I don't hang out with him."
Listen To The Full Interview On RadarOnline:
Not long after Brad, Paltrow moved on to the latest Batman star, Ben Affleck, though their relationship ultimately fizzled on less amicable terms.
"He was not in a good place in his life to have a girlfriend," the Iron Man star said of their relationship.
"I think that when you're in your twenties, you can get swept up in good looks," she recalled of her illustrious past. "When you're a kid, you tend to be more shallow and you're also immature, so you think that being with a good looking person validates yourself in some kind of way. It's not true."
Article continues below advertisement
During her relationship with Affleck, Paltrow's then-bestie Winona Ryder was dating Affleck's buddy Matt Damon – makings for the perfect double date! Unfortunately, their friendship quickly unraveled after Paltrow reportedly took the lead role in Shakespeare In Love from Ryder. Paltrow denied claims to Stern.
Paltrow admits she's grown and changed a great deal since her tumultuous 20s. The actress shared that she and estranged husband Chris Martin are still friendly, though she regrets using the term "conscious uncoupling" to describe their split.
You can't win them all –​ Gwyneth will never live that one down!