Exclusive
Jim Bob's Nightmare! Lesbian Couple Takes Kissing Photo In Duggars' Front Yard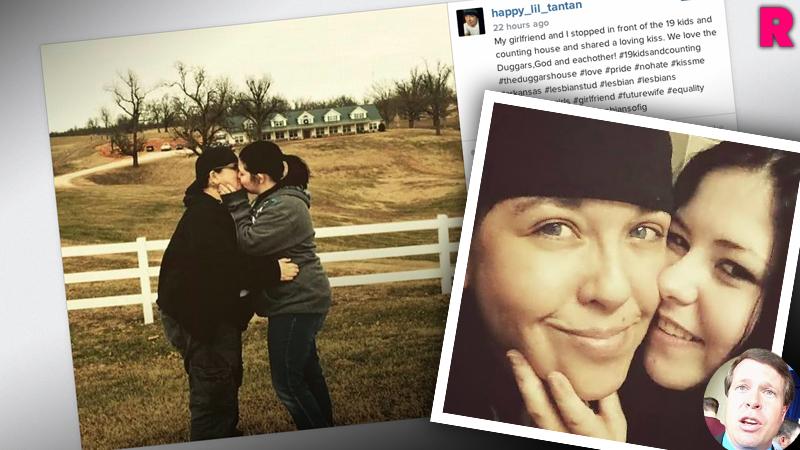 The Duggar family infamously removed photos of same-sex couples kissing from their official Facebook page late last year. But they won't be able to censor this.
Texas couple Tandra Barnfield and Samantha Muzny were visiting a cousin in Tontitown, Arkansas, on January 10 when they decided to stop and snap a cute smooch shot— directly in front of the anti-LGBT rights activists' home.
A few days later, Barnfield decided to post the photo to her Instagram page.
Article continues below advertisement
"My cousin lives just a few doors down from the Duggars. When we saw the house, it just lit a fire underneath us," Barnfield, who shares three children with Muzny, exclusively tells RadarOnline.com. "I said, 'Let's go make out!' My sister took the photo."
Though she only expected a few friends and family members to see the sweet pic, the asset protection specialist felt she was making a statement.
http://instagram.com/p/xz5HLfgjFN/?modal=true
"I want to get married to my girlfriend. And the Duggars are fighting my right to do so," Barnfield explains. "It upsets me. If you won't let me get married, I'm going to make out with my girlfriend in front of you."
Despite the longtime couple's frustration with the Duggars' stance on gay marriage, they have no ill will toward Jim Bob, Michelle, Family Research Council Action executive director Josh, who led a gay marriage opposition rally in Arkansas this winter, or any of the other right-wing children.
Article continues below advertisement
"We love the Duggars, we watch their show all the time," Barnfield reveals. "I also have morals and love God. They sit there and say they love everybody too, but then they fight against my rights."
"They marry off their daughters to men very young. I don't protest their lifestyle!"
Barnfield and Muzny, who live with their children outside Houston, hope to tie the knot soon.
"When I look into her eyes, I know she is my forever," Barnfield gushes. "I would marry her tomorrow if I could. We hope Texas changes their laws soon."