Conspiracy Theorists Say Car Chase-Related Death In D.C. Was To Block Discovery Of Her 'Love Child' With President Obama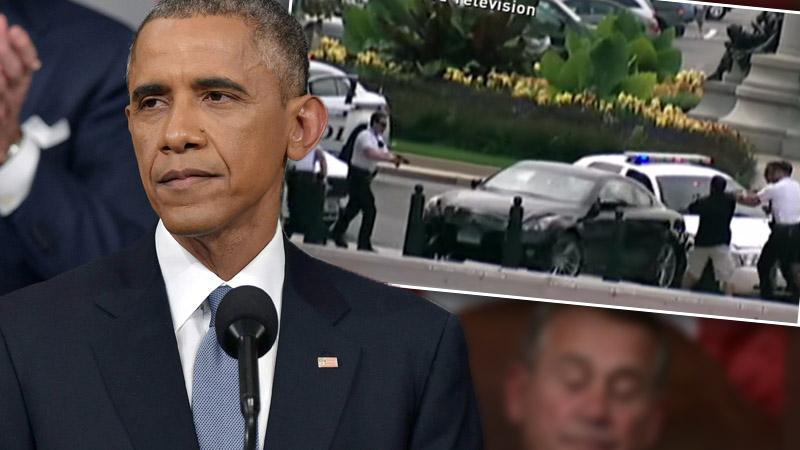 President Barack Obama had a Conn. woman named Miriam Carey killed to cover up a love child scandal, conspiracy theorists are claiming.
The controversy is centered around the Carey's Oct. 3, 2013 death, as the 34-year-old was fatally shot by police after a televised car crash in Washington, D.C. that spanned from the White House to the U.S. Capitol. Carey's 1-year-old daughter thankfully survived the harrowing incident.
Article continues below advertisement
With that in mind, theorists say that the president had called Carey, a Conn. dental hygienist, to the nation's capital, knowing her fate.
"Why else would police take such drastic measures to stop Miriam Carey – an innocent person?" Harlem-based Rev. James David Manning asked The National ENQUIRER. "Her tragic death smacks of a cover-up."
Manning, of the ATLAH World Missionary Church, said that the "logical reason for this would be to protect President Obama from scandal – that Miriam's daughter is his love child!"
Manning called for a paternity test of the child, who is now 2-years-old.
In addition to Manning, a Kremlin intelligence agency suggested Carey was "deliberately targeted" by her assassins in an online report titled, "Mother of Obama 'Love Child' Gunned Down By Elite Hit Squad."
And one insider pointed out that video of the incident was strategically caught on camera by Alhurra TV -- a small news outlet based in the Middle East, run on the U.S. government's dime.
Article continues below advertisement
"As part of the 'Love child' murder theory," the insider said, "Obama specifically arranged for her 'killing' to be captured by this particular news agency – not an independent U.S. network like ABC or CNN."
Carey's sister Valarie Carey, who once worked as a transit police sergeant for the N.Y.P.D., told The ENQUIRER that her goal is to bring "justice for Miriam.
"There can never be any closure for any of us until a proper and thorough investigation is done," she said. "Miriam didn't deserve to die the way she did!"
Carey's survivors have sued Secret Service , the Department of Justice and the Capitol Police for $75 million in the death, which media reports have tied to Carey's diagnosed psychosis.
Their lawyer, Eric Sanders told The ENQUIRER he had no idea whether the late woman ever actually spoke with the commander-in-chief, adding that the child now lives with her biological father.
Sanders said Manning was out-of-line "using Miriam Carey's death in such a despicable and unconscionable way to further what is obviously a political agenda."