Angelina Jolie's Suicide Hell! Read The Police Report She Never Wanted Anyone To See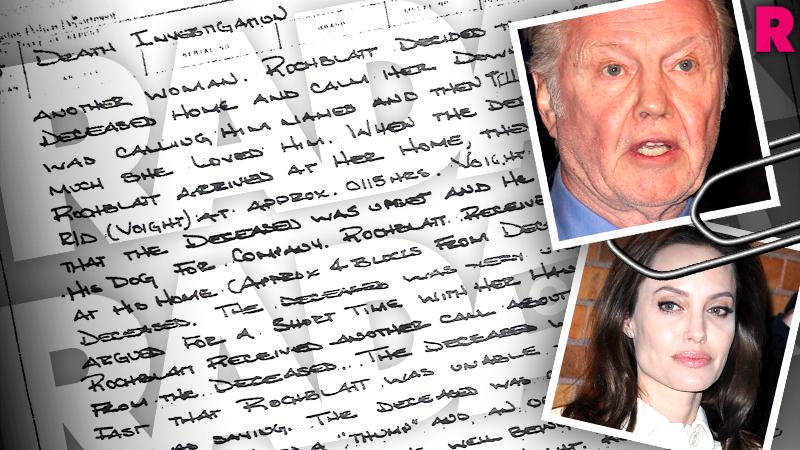 A bombshell coroner's report buried for over two decades reveals that Angelina Jolie's teen years were shattered by the shocking suicide of a modeling agent close to her family.
The woman, Julie "Cindy" Jones, relied heavily on Jolie's 76-year-old father, actor Jon Voight, at the height of the actress' "wild child" phase, sources told The National ENQUIRER.
Just 15 when the tragedy occurred, Jolie, now 39, was the ultimate Hollywood rebel, dressing in black, experimenting with drugs and regularly mutilating herself.
Article continues below advertisement
At the same time, her dad – who soared to fame in Midnight Cowboy, Deliverance and other major movies – was harboring a deep, dark secret.
Voight had rented a home for Jones, and an L.A. County medical examiner's report details how he found the 33-year-old stunner on the floor of the home with a bullet in her chest on March 11, 1991.
Voight called 911, and notes taken by first responders said she was last known to be alive in the early hours of that day.
An investigator said Jones was "the victim of an apparent self-inflicted gunshot wound." The coroner concluded that she committed suicide while "despondent" over her "new relationship" and a broken marriage.
Jones moved to L.A., where she ran a modeling agency. Her boyfriends included General Hospital star Wally Kurth, after leaving her second husband, her family said.
She eventually struck up a close bond with Voight, according to New York journalist John Connolly, who investigated her death.
She lived with Voight, and he later "moved her to a home down the street," he said.
According to Jolie's biographer Andrew Morton, Voight "wondered if he could have done more to save her, and if his daughter, emaciated, hostile and prone to suicidal thoughts, could end up the same way."
For more on this story, pick up the latest issue of The National ENQUIRER, on newsstands now.