Exclusive
Aaron Hernandez Murder Trial Kicks Off As New England Patriots Prepare For Super Bowl — Coaches Subpoenaed!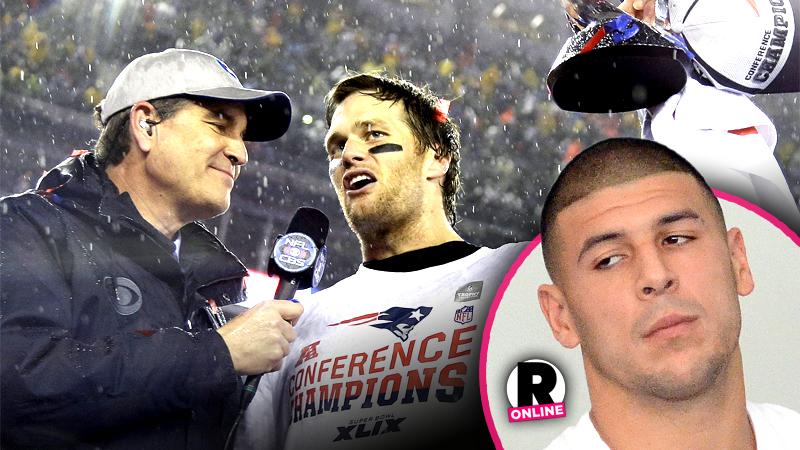 While New England Patriots head coach Bill Belichick prepares his team for the Super Bowl, he's also on call to testify in the murder trial of his former star tight end Aaron Hernandez.
The trial will start once prosecutors and defense lawyers choose 18 Massachusetts citizens who can sit as fair and impartial jurors — a daunting task as the NFL team heads to the Super Bowl. Jury selection is expected to conclude Wednesday, with the trial kicking off in earnest on Thursday.
Article continues below advertisement
Hernandez, who last played for Belichick in the Patriots' Super Bowl loss to the New York Giants two years ago, allegedly orchestrated the June 2013 shooting death of 27-year-old Odin Lloyd, the boyfriend of his fiancee's sister. Hernandez allegedly took Lloyd, who was a semi-pro player, to a remote industrial park where he and two other men killed him.
Judge E. Susan Garsh has banned any sports logos from the Fall River Justice Center while the trial is under way, which could prove difficult to enforce as Super Bowl fever continues to infect the Boston area.
While no Patriot players are on the prosecution's witness list, prosecutors have said they may call Belichick, team owner Robert Kraft, special teams coach Joseph Judge, player development director Kevin Anderson and strength and conditioning coaches Harold Nash Jr. and Moses Cabrera.
Prosecutors also may try to force Shayanna Jenkins, who has a child with Hernandez, to testify against her fiancé. She's facing a perjury charge for allegedly lying to the grand jury investigating the killing.