'They're Beautiful, Perky & Gorgeous!' Vicki Gunvalson Shares Full Story Behind Topless Instagram Leak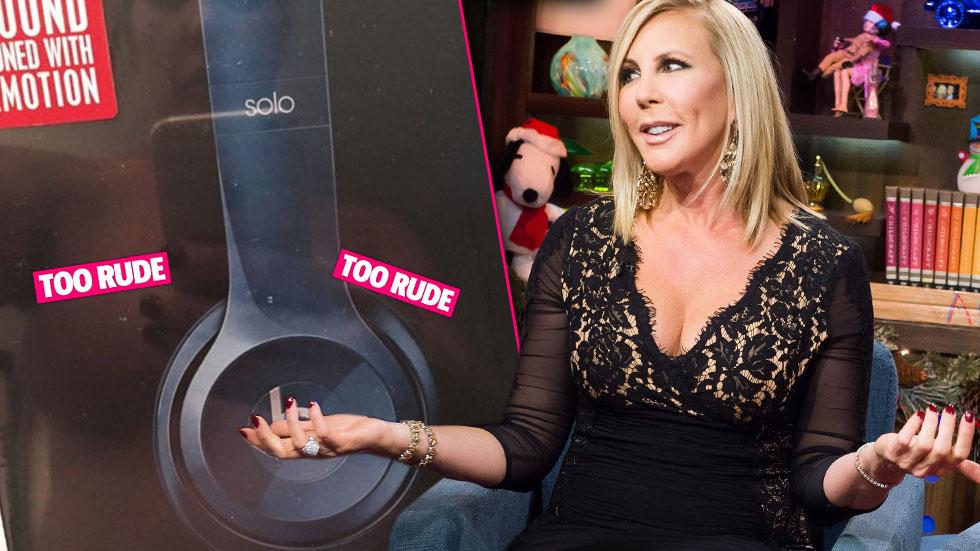 Vicki Gunvalson, after accidentally posting a topless pic to her Instagram page last week, explained the frisky fiasco in detail to Andy Cohen on Tuesday's Watch What Happens Live, and revealed the identity of the whistleblower who alerted her to the sexy snafu.
As RadarOnline.com previously reported, the "O.G. from the O.C." made the busty blunder when trying to thank Cohen and Bravo for a set of headphones they gave her as a gift for the holidays.
Article continues below advertisement
"So I was getting out of the shower, I had my wrap on, I was going to the bathroom to get my bra and my cute little panties on and my headphones were sitting there and I thought, 'I might as well thank Andy for giving them to me and Bravo,' and I took a picture of them," the blonde beauty said.
Watch the video on RadarOnline.com
Of course, The Real Housewives of Orange County mainstay didn't take into account her "reflection was going to go off of the cellophane," and "Instagrammed them out."
"Without my glasses on, so I didn't see them."
Gunvalson said that Jeana Keough's daughter Kara was her saving grace in the embarrassing slip-up, calling her "30 seconds later" to let her know of the error, telling her, "You need to get that off, because your boobies are showing!"
Gunvalson said she "didn't go on social media for two days" following the mammary mistake -- but not due to shame, as she was hardly humble after Cohen complimented her on her breasts.
Article continues below advertisement
"Of course, they're beautiful," the reality star gushed. "They're 52, they're perky, they're gorgeous."
When Cohen asked them if they were natural, Gunvalson invited him to "feel 'em," which he declined.
Also in the appearance, Vicki updated fans on the condition of her cancer-stricken boyfriend, Brooks Ayers, telling viewers he just finished his second stage of chemotherapy, and that she's "proud of him."
Watch What Happens Live airs Sunday thru Thursday on Bravo at 11/10c.